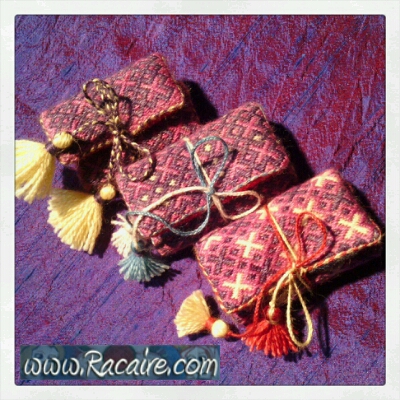 You maybe remember my first "Craft with Racaire" project #1. The needle roll tutorial with German Brick Stitch embroidery which I recently posted.
I was very pleased with my new German Brick Stitch pattern and the finished embroidery for the first needle roll. Furthermore I also tremendously enjoyed working with the beautiful new silk/wool thread I just got from the yarn shop.
Like always, this are more then enough great reasons for me to became playful and creative. This time I decided to play around with my German Brick Stitch pattern #2 and to try out two new pattern ideas I had on my mind. The German Brick Stitch pattern #2 is already a simplified version of my German Brick Stitch pattern #1 and both new pattern ideas are based on this simplified German Brick Stitch pattern #2.
Though I just finished the embroidery for my 14th century French pouch commission, I was not able to proceed with the assembling of the pouch before I had all needed materials together, pre-washed and ironed. Preparing the materials for the pouch commission, I wanted to work at some embroidery. That was the moment when I remembered that I had some embroidery – well, this German Brick Stitch embroidery – still waiting to be turned into needle rolls and I decided to get back to this embroidered bands and to assemble the needle rolls…
…and like always, I have some pictures for you – enjoy! 😀
…I am sorry, but the following content is restricted to logged in members of my blog.
I think this embroidered needle rolls are a really nice addition for my Travel & Largesse Fund, aren't they. Somehow I run out of embroidered gifts during my last journeys to the beautiful Kingdom of Meridies in 2012… 😉
I hope you enjoyed my new photos and find my links helpful. If you would like to make a your own needle roll now, you can find all in-depth postings with detailed step-by-step photo tutorials for all steps for this project here: "Craft with Racaire – Project #1 – needle-roll"
I wish you a beautiful weekend! 😀