And again I got another beautiful embroidered patch for my wedding cloak project! 😀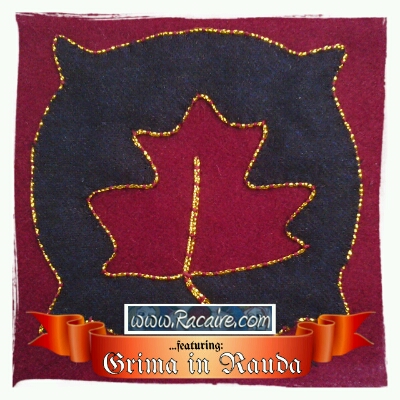 This time I present to you a beautiful hand embroidered patch for my 12th century wedding cloak project by courtesy of lady Grima in Rauda.
This patch was hand embroidered by the talented lady Grima in Rauda. She sent this beautiful hand embroidered patch from the SCA Barony Styringheim situated in the Principality of Nordmark, a part of the beautiful SCA Kingdom of Drachenwald. 😀
About the artisan:
Thank you very much Grima! 
…and heartily greetings to the Barony Styringheim in Nordmark!
I would also like to share with you some words from lady Grima in Rauda about herself and her work. It will give you a better idea about the artisan who created this patch as well as where this lovely patch comes from and what inspired her:
"My SCA persona name is Grima in Rauda and I'm a member of the Barony of Styringheim on the island of Gotland, Sweden. We're a part of the Principality of Nordmark and Kingdom of Drachenwald. Styringheim is one of the biggest SCA groups in Sweden which is not strange given Gotlands impressive medieval history. It's the place for Visby Medieval Week which is coming around soon, it's a busy time!

I have been a member for many years and enjoy sewing, embroidery and heraldry most of all, apart from all the amazing people I've met over the years. Mostly I do blackstitch, so it was fun trying out something new.
There are several very interesting medieval intarsia items in Sweden, mostly church finds, and I used them as the inspiration for your patch.

A happy marriage to you!

Yours,
Grima"
And now some in-depth details about the technique Grima used. Enjoy! 😀
…I am sorry, but the following content is restricted to logged in members of my blog.
I hope you enjoyed my new posting and now back to my current embroidery projects… 😉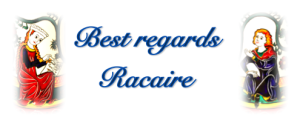 PS: You can find more about this wedding cloak project and all the beautiful embroidered patches I got till now here: