…and finally a picture of the Kings Champion "scroll" which His Majesty Bryce commissioned for coronation: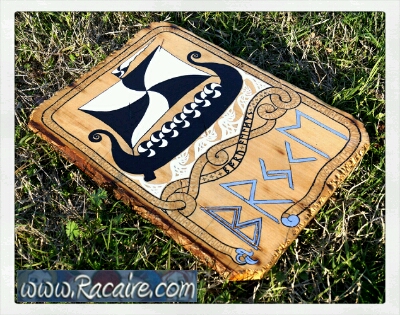 This is the second "viking scroll", as I call them, which I made so far.
…and apropos second "viking scroll" – maybe you remember my very first "viking scroll" for Kail's knighting. Ok, I admit that Kail's knighting scroll turned out so much better than I initially thought but I am still quite surprised about the fact that I was commissioned with not only one but two "viking scrolls" till now. *lol* I really can't repeat it often enough – this is not my field of expertise! *lol*

With the scroll for the Rose Tournament, my husbands knighting scroll and the OvO pouch for my beloved mother in law, Gloria, I had quite enough on my plate. And thinking back, I can't tell you how glad I was – and still am – that I managed to finish all in time before Gulf Wars. Or, well, nearly all, as Gloria unfortunately had to sew the hanging strip for her OvO bag herself as I just couldn't finish it anymore. But at least I was trying my best – sewing like crazy during every spare minute I had… 🙂
But to cut a long story short – I couldn't start the work on this scroll until after Gulf Wars. His Majesty Bryce was so kind to provide a suitable wood cut with a already prepared surface some weeks ago. And after we got home from Gulf Wars and after taking care of the biggest mess, I started my preparation, planning and free hand tracing: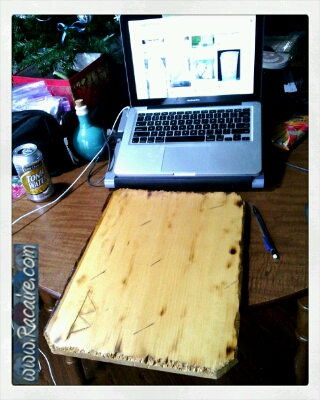 As you can see on the picture above – even this scroll started like always, just with a simple blank woodcut and some basic ideas on my mind.
Well, I think that for most projects a good basic idea is all one needs. A good idea which can be developed and built on. And though I had less than a week to finish this new viking scroll for the winner of the Kings Champion Tournament at coronation, I think that I had a good basic idea again and am quite pleased with the outcome: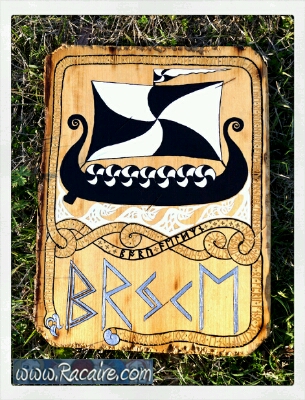 Well, I really like the final look of the Kings Champion scroll and hope that you enjoy it too. And yes, I took the photo above shortly after putting in the name of the winner of the tournament but please don't ask me for the name*, I couldn't found the piece of paper on which the name was written on. And last but not least I would like to thank my friend Tom who was so kind to translate the name into runes for me…
(* addendum: Duke Boru won the Kings Champion Tournament at coronation 🙂 )