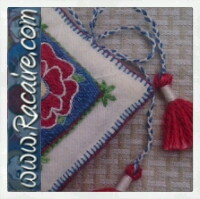 Ready for another needle book with Klosterstich embroidery? …and in the mood for a hand embroidered medieval 14th century rose?
Well, that's great because I have a cute combination of both for you today.

Again I turned one of the recently embroidered Klosterstich patches into a small needle book for my Travel & Largesse Fund. I think this needle book is even more beautiful that the needle book which I finished yesterday. …but well, I am biased, therefore decide yourself.

And here the picture of my new needle book with the 14th century Klosterstich rose – enjoy!


Continue reading →