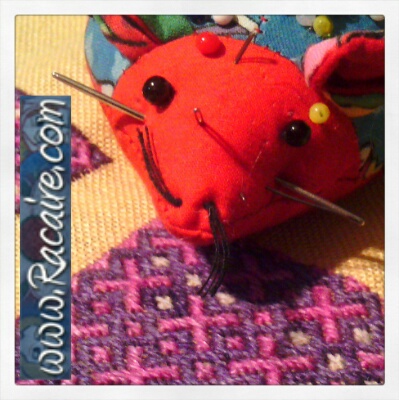 Before I "restarted" my new blog, I told a friend of mine that I have many possible projects I could start with for my new section "Craft with Racaire".
I told her that I could start with a German Brick Stitch needle-roll, a Klosterstich needle-book, a 12th century fillet, a Reliquary box with bead embroidery based on a rather rare 13th century Pearl Ciborium or based on a period extant piece, another pull-over dress/underdress with revisiting my last recent pattern, a tight fitted bliaut, a linen veil with a period bird pattern, the "We have Dragons" project, a pouch, a hood with daggings,… – just to name a few possibilities. …and yes, all projects were thought to include more or less embroidery like German Brick Stitch, Klosterstich, Refilsaum,…
I asked her what she would like to see as my first project. She replied, a needle-roll would be good to start with. I admit that this was not really the answer I expected. *lol* But well, I thought, then let's make a needle roll. I am sure that I and furthermore also you too – with my instructions and help – can do a lovely small needle-roll with German Brick Stitch embroidery rather easily.

…and I anyway need an embroidered gift for my "thank you gift package" for my "Patches for Racaires 12th century wedding dress project" fun project – don't forget, one lot per patch. Like always, the lucky winner gets all and in this special case Racaire's "thank you gift package".
Btw. if you are interested into seeing & learning one of the above mentioned techniques or would like to see one of them as my next "Craft with Racaire" project & tutorial – just let me know. I already have technical fact sheets for Klosterstich & Refilsaum ready. Short note before I return to the topic – I still have all my old postings and photos I shared with you during the last 9 years in my archives – if you want to see a special one of them reblogged or revisited, let me know.
"Craft with Racaire" project .1
Needle-roll #1 with German Brick Stitch #2