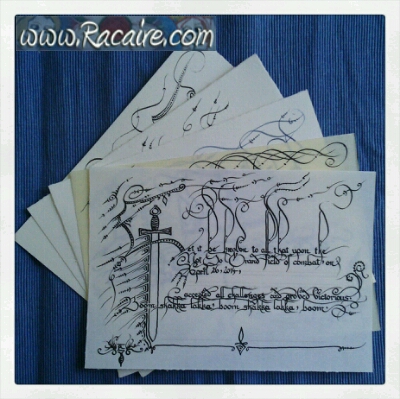 *Woooohoooo* It is monday! That means that the weekend and also the SCA event "Not So Grand 8" are over and I can show you my scrolls and my calligraphy for the event…

I didn't get to practice my "Bastarda" – my preferred calligraphy hand – very often during the last months therefore I very appreciated this small "scroll commission" of my lord. This is always a great opportunity for me to get creative and to play around. I had a lot of fun working at this scrolls.

I made two scrolls on "Pergamenata" for the winner of the fighting and the winner of the A&S and 3 "Thank you scrolls" for helping at the event. My sweetheart informed me about the recipients of the scrolls: Hrothgar won the fighting, Willielmus won A&S and my "Thank you scrolls" went to Gue'rert de Verrene, Werner von Seitz, and Ruth Alvey – I am sure they are well deserved. Congratulations!
…and now some photos of my scrolls and calligraphy for you – enjoy!