– Premium Membership –
or
"Craft with Racaire"
You would like to see the progress photos of my medieval embroidery and sewing projects as well as detailed photos and in-depth project instructions and you can't wait to try it yourself?
In this case I heartily welcome you to "Craft with Racaire". The membership that contains all this benefits you are looking for and even more…
Description:
You get free access to the basic & advanced membership content including the progress pictures of my medieval embroidery and sewing projects, additional close up photos of details as well as more in-depth information, useful links,… on a regular basis.
Furthermore you also get free access to my popular photo tutorials. The tutorials include detailed information and photos about every single step and progress level of the featured project. At this level you can access my basic, advanced & premium postings/content.
Progress pictures of my medieval hand embroidery & hand sewing projects
Bookmark & Comment function
Detailed close up photos of my projects
More in-depth information, useful links, extra information about details, my museum photos,…
Detailed Step-by-Step tutorials of featured projects
Detailed book reviews of books which contain photos and/or detailed information about embroidery, medieval embroidery, medieval items,…
Access to my collection of medieval embroidery techniques
Access to my collection of medieval hand sewing techniques
Access to my 12th century embroidery and period inspiration page
Free Patterns, technique descriptions, …
Please feel free to contact me if you need clarification or extra information concerning a certain tutorial step or if you have suggestions for a future project or tutorial. 🙂
Price:
The subscriptions below are set without expiry date and will be billed until cancelled.
1 month: € 14.00* 
6 months: € 80.00* 
12 months: 

€ 154.00

*  
Shortly after the purchase you will receive an email which will contain the details of this transaction as well as a link which will enable you to set up your membership account.
If you don't receive this email within a day, please check your spam filter and contact me as soon as possible via the contact page.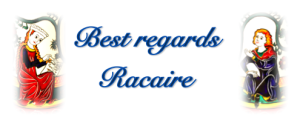 Hint: …if you pay one year – you get one month for free!
(* = Our prices include the statutory Austrian sales tax.)