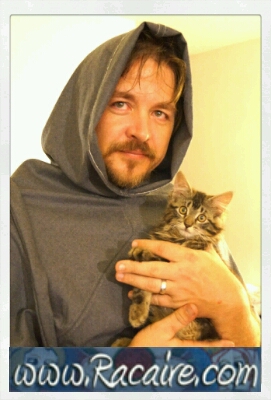 Do you remember the 14th century XL hood pattern about which I told you recently?
Well, then I have some great news for you! I managed to finish the hand-sewing part of my 14th century XL hood before "A Midsummer Day's Brawl" – an SCA event in Tennessee last weekend and I took my finished XL sample hood with me to the event for a fitting.
Though my friend – for whom I drafted this pattern – and I were quite busy at the event, we managed to find some time where he was able to try on the 14th century XL sample hood and guess what! …it fits fine! *happydance*
I was very relieved to see the good fit of the 14th century XL hood pattern which I just drafted some days ago to meet the specific measurements of my friends head. But even more important than the fit of the new XL hood pattern was to see my friend happy! Well, yes, I admit it – I love moments like this… 🙂
And to make him even more happy, I agreed to make two small changes to my pattern – I will take off about 4cm at the bottom border of the hood and shorten the quite long liripipe. This are very fast changes and quite marginal in comparison to the task of drafting a bigger pattern. I wish every problem in life could be solved that easy… 😉
Furthermore I also managed to make another man in my life quite happy. My sweetheart loves his new hood and what shall I say – so does Alice! But instead of wearing it, she mostly concentrates on hunting the end of the long liripipe… *giggle*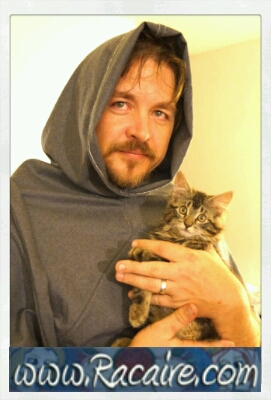 As my husbands head is slightly smaller than the head of my friend for whom I drafted this pattern, the 14th century XL hood pattern is a little bit too big for him. Well, at least for my taste – he on the other side really enjoys his new hood.
Whenever I will end up with too much spare time I might draft a fitting pattern for him… Well, whom am I kidding? Unless I make it a project and set my mind on making a new hood for him this will actually never happen… You know me, I never have spare time – just one project following another and sometimes even more than just one project at one time. *lol* 😉
And now let's take a look at the new hood pattern and let me tell you a little bit more about the hood pattern I use – enjoy! 😀
…I am sorry, but the following content is restricted to logged in members of my blog.
But enough about my 14th century XL hood pattern for now, I have to get back to my embroidery… 😉