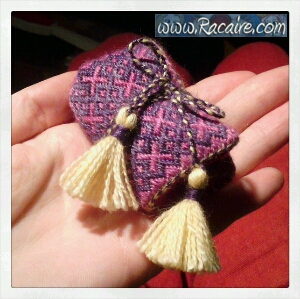 The final result of my first project for
"Craft with Racaire" – Needle roll
…I am sorry, but the following photos are restricted to logged in members of my blog.
Welcome to my embroidered needle roll tutorial. This detailed step by step tutorial shows how I make my hand embroidered needle rolls by using several medieval techniques.
The needle roll tutorial includes special practical information concerning the medieval embroidery technique "German Brick Stitch" as well as a step by step photo tutorial for a nice medieval finishing technique for the borders.
Following you will find a short list of all detailed step by step photo tutorials and in-depth postings for this embroidered needle roll tutorial available for the Premium users of my blog. Enjoy! 😀
…and some other needle rolls:
At the picture on the left you can see needle roll #1 and two other embroidered needle rolls finished by using the techniques described above. Read more about them here: More German Brick Stitch embroidery – Needle Roll 2 & 3 finished