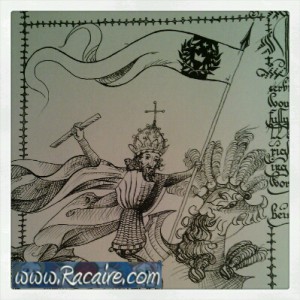 The motto of yesterdays afternoon was: Calligraphy, calligraphy & some pen work! *wooohooo*

Ok, first things first – a friend of my sweetheart will become a knight of the SCA in about 2 weeks.

Every SCA award which is given out by the King and Queen during court at an SCA event is already a rather big deal but being elevated to the peerage – to become either a "Laurel", a "Pelican" or a "Knight" – is one of the most important "awards"/elevations the SCA has to offer. Therefore I was very happy when I was asked to contribute to this very special moment by creating the Knighting scroll.