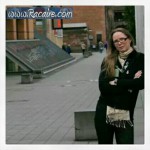 I am such a happy girl and I still can't believe it. For the next days I will be away from the computer because I am going to Barcelona! Viva Espana! *happydance*

…and my motto is again: "Mission Medieval Barcelona"!
But I promise that I will also take a look at the "modern" stuff and that I will take many-many-manyyyy photos.