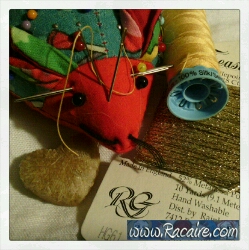 Since the last posting concerning the sleeve embroidery for the 13th century tunic, I spent even more hours busy working at my husbands 13th century under tunic.
And I am very glad to say that I made great progress concerning the embroidery.

I added two embroidered bears and comets to the sleeves. The bears stand for the "Legion of the Bear"/"Legio Ursi"  SCA award and the comets for the Argent Comet" SCA award.