I have some additions on my mind for the 14th century inspired fitted medieval stockings tutorial which I posted yesterday but first I would like to catch up some of the small projects I was working on recently. My sister Noel did an awesome job concerning raising my interest for wire jewelry and "trees of life". And once I made my very first two "trees of life", I just couldn't stop anymore…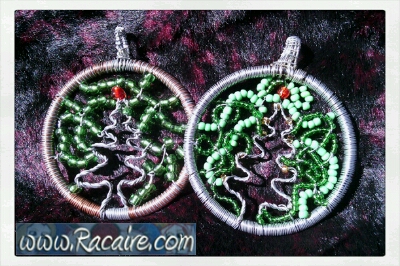 As you can see on the picture above, I made two little "christmas trees of life" next.

I just wanted to know if I am also capable of making something else besides normal "trees of life" and hearts…. and well, christmas is really fast approaching. *lol* I think they don't look bad for someone who has nearly no practice in creating things like this. *giggle*
…and I also made another "tree of love", as I call them – I just couldn't resist.