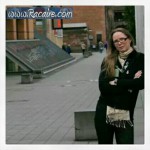 …and again – for your daily inspiration and enjoyment – another progress picture of my embroidery for my 14th century French pouch commission.
The third section is nearly finished and I really like the effect of the white and yellow sections framed by the bright red – but see for yourself and enjoy!

…I am sorry, but the following content is restricted to logged in members of my blog.