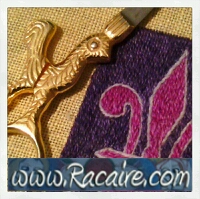 …and after all the small patches for my new needle books showing flowers done in Klosterstich technique, I again have a 14th century inspired fleur-de-lis Klosterstich embroidery for you.
With all this small embroidered patches lying before me, I really think that I should go on and transform them into some nice needle books now. They will be a beautiful addition for my "Travel & Largesse Fund".
My pile of U.F.O.s* is already big enough and doesn't need any further addition. Therefore – where are my leftover wool fabrics, threads and needles?! *lol*

But first things first – here a picture of my most recent fleur-de-lis in Klosterstich embroidery for you and some additional progress pictures – enjoy!