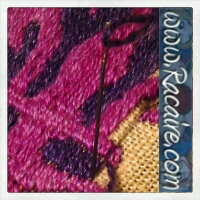 The Klosterstich embroidery technique is one of my favorite embroidery techniques. As some of you might remember, I always tremendously enjoy working at projects which involve this technique.
Therefore it's no wonder that I enjoyed working at my recent needle books with Klosterstich embroidery so much that I decided to embroider more small patches  and to sew more needle books. Furthermore I also have the feeling that my "Travel & Largesse Fund" is still much too empty for my personal taste. I definitely need to make more small gifts.

This is why I again started working at small patches with Klosterstich embroidery and I already have one more Klosterstich embroidery for needle books I can show you – a medieval 14th century rose – enjoy!