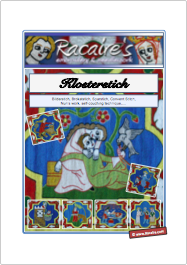 As some of you might already know, the German Klosterstich technique is one of my most favorite medieval embroidery techniques. And today I proudly present my revised Klosterstich technique handout to you.

I am very happy to say that this is just the beginning of a nice series of posting about the Klosterstich technique. Although I already posted about my very first 14th century "Fleur-de-Lis" embroidery pattern for Klosterstich some time ago, I assure you that the journey just begins.
This technique handout shows you the basics of the Klosterstich technique and is just another step on our way into the beautiful and amazing world of medieval embroidery.
I really hope that you will enjoy this technique as much as I do soon, even if it might need some further help and instructions. Please don't give up – the technique just looks difficult but it really isn't difficult at all.