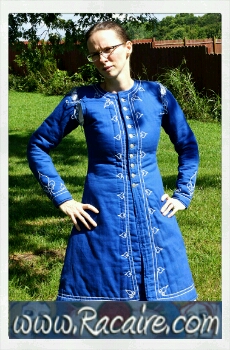 Wooohooo! My new, embroidered arming coat is finally finished! …and yeah, I have photos to prove it!
But first things first! The last week was really intense. All week long I was working like crazy at a special knighting "scroll" due to a very short deadline. I even worked my nights through to make sure that I am able to finish the "scroll" in time. Though my sweetheart might have missed snuggling with me at night, he was very understanding and supportive – thank you hon! I love you! 😀
And finally all the hard work and back pain paid off as I just finished the last details! And damn, it looks pretty amazing if I may say so…
But unfortunately I can't show you any pictures of this very special knighting "scroll" until after the event as it is supposed to be a surprise for its recipient. However, I have another finished project which I can show you. My dear sweetheart took several pictures of my new, embroidered arming coat for you. 🙂
Though I was not able to test my new, embroidered arming coat in a fighter practice yet as I am still missing some major armor parts, I am still pretty excited. I've never been so close to actually getting a good fitting set of armor for SCA heavy fighting together. And that makes me very happy. Now I only need some more armor and I can start with SCA heavy fighting again… Yeah, sooooo close… *lol*
And now let's take a look at my new, embroidered arming coat – enjoy! 😀
…I am sorry, but the following content is restricted to logged in members of my blog.
I hope you enjoyed the pictures of my new, embroidered arming coat! I still can't believe that I actually made one which works so fine… *lol*