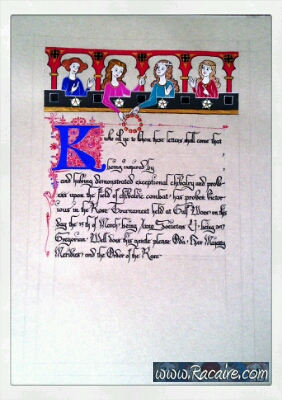 …and finally, after finishing the two scrolls which were on my to-do list, as well as the artwork for the vigil book for my husbands knighting, I am able to catch some breath again. And it's definitely time to show you more of the progress that I made concerning my most recent projects. Well, at least the progress of the projects which don't need to remain secret until they've reached their recipient at war… 😉
In todays posting I am going to show you an update concerning the scroll for the winner of the rose tournament, which will be held at Gulf Wars. I've already posted about my very first progress concerning this scroll here: "Scriptorium – working on the scroll for the "Rose Tournament" at Gulf Wars and some new blank scrolls…"

…and now let us take a look at the finished initial and the calligraphy for the scroll and how all of it is slowly coming together: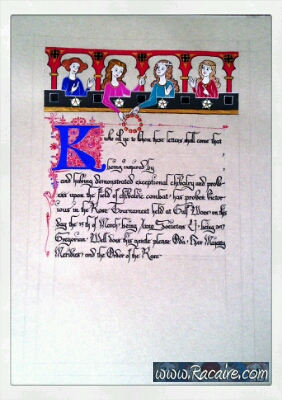 The artwork depicting the ladies, which is situated in the top part of the scroll, was inspired by the Codex Manesse. And though it might not appear like it, the predominant"K" initial underneath the ladies was also inspired by the Manesse. I have to admit that, until this very project, I actually never paid much attention to the text parts of the Codex Manesse. However, I found that the initials of the Manesse text are definitely worth while as they contain some beautiful pen work.
And now let us take a closer look at the new progress – enjoy! 😀
…I am sorry, but the following content is restricted to logged in members of my blog.
I hope you enjoyed to see the new progress for the rose tournament scroll and I'll post more progress pictures as soon as possible. 😀