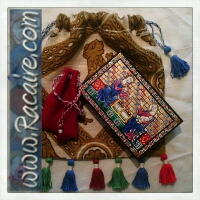 I know, after my recent posting about the "forgotten 14th century queen from France", you are impatiently waiting for my other finds from my Mission "Medieval Berlin". Well, I have indeed many beautiful things to share with you. I have new photos of lovely medieval embroidery, "bling bling", new 14th century museum catalogues and many more other lovely medieval things I found…
…but we also have a "Craft with Racaire" project to finish. I admit it, I neglected this project a little but there was so much I wanted to post about instead. Now I am definitely determined to finish this project as soon as possible.
Especially because I already have so many new ideas for medieval inspired and medieval embroidered projects on my mind. As well as a rather long list of "projects I definitely want to do". Like an embroidered 14th century floral head band or a new embroidered 12th century fillet or… So many museum photos, so many ideas, so many projects and just so little time… *lol*
Therefore lets start today with the next step towards the finishing, the actual hand sewing for the:
Fast and easy pouch tutorial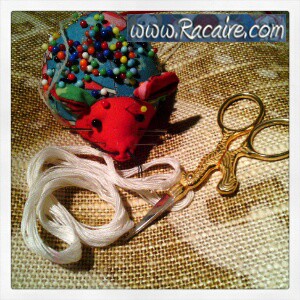 As you already might have noticed, I try to provide a lot of extra information and knowledge with my tutorials. They do not only contain a basic tutorial for the actual project, they also contain a lot of extra in-depth information as well as personal thoughts about the described projects and techniques.
The first steps for this project had the purpose to help you to get started. Furthermore they provided a lot of in-depth information about the basic hand sewing stitches "Running Stitch" and "Back Stitch". While putting together this "basic" information, I was especially thinking about which information could help if you are a newbie to hand sewing. I also tried my best to provide some interesting information for the experienced hand sewers among you.
My personal goal was that whatever level you are when it comes to hand sewing,  that you should be able to work at your hand sewing with a certain ease of knowledge after reading my in-depth postings about the "Running Stitch" and "Back Stitch". If you would like to reread the postings before you start with the next step – the actual hand sewing – underneath you find a short list of all postings for this tutorial till now:
Step 1) Fast and easy pouch tutorial & how to work with "rapports"
This posting explains how to calculate the needed fabric for the easy pouch tutorial. I also added some extra information: "how to work with rapports" (repeating patterns).
Step 1.1) Hand sewing stitches: Running Stitch…
This posting is an in-depth description of the first and most basic hand-sewing stitch you will need for this tutorial – the Running Stitch.
Step 1.2) Hand sewing stitches: Back Stitch (and Stem Stitch)…
Another in-depth description of another basic and helpful hand-sewing stitch you will need for this technique – the Running Stitch.
…and now you should be definitely prepared to start with the hand sewing.
It is time for some "hand sewing fun"! Let's put the "fast & easy pouch" together:
…I am sorry, but this content is restricted to users with Premium membership.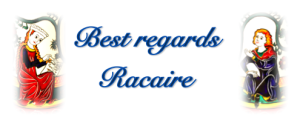 You can find all postings about this project in the category:
Craft with Racaire – #2 fast & easy pouch