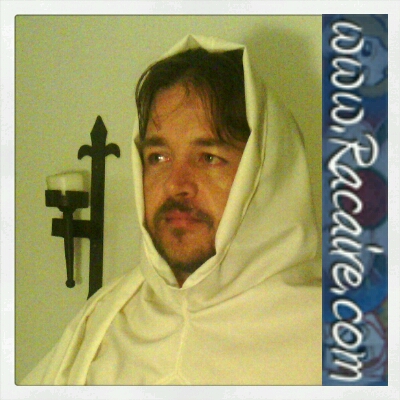 After all the successful previous preparation for this project (like drafting an XL pattern and creating a 14th century XL hood sample), I finally started working at the actual project some days ago:
A white 14th century XL hood
for my friends Pelican elevation. 🙂
But first a short explanation for all readers who are not familiar with the SCA:
Whenever a member of the SCA shows great passion in "service" to the society, excels in the "arts & sciences" (like woodwork, embroidery, teaching about his/her craft,…) or shows great skill in fighting ("Heavy Fighting", fencing,…) and some people who observe this commitment report it to The Royal Majesties of their kingdom (normally done via a recommendation form at the kingdom website) – well, then there is a good chance that this person might be awarded at one of the next events with an award. And, btw., every one of this awards comes also with a scroll… 😀
There are some awards within the SCA which are the same worldwide – regardless in which kingdom you live (like the Award of Arms, Grant of Arms, Order of the Pelican, Order of the Laurel,…). And besides this worldwide awards, there is also a wide range of local awards which vary from kingdom to kingdom.
Like my "Order of the Panache" from Drachenwald (Europe) and the "Meridian Cross" which I received here in the states. They are both awards for my devotion to the "art and science" field (embroidery, calligrahpy,…). And though they are both arts and science awards, they have a slightly different meaning and award level as they come from two different kingdoms.
But let's get back to the "Order of the Pelican" award – this award is one of the above mentioned worldwide awards and also one of the highest awards you can strive for in the field of service. It shows the passion of my dear friend to the field of service and reflects all his hard work for our society.
Therefore and because he is a really awesome person, it is a great honor for me to make this hood for his Pelican elevation ceremony. Yeah, there is no doubt that we will celebrate accordingly to honor his passion and his hard work! 😀
And now let's take a look at the 14th century XL hood I just hand-sewed for him. Sure, it's still lacking all the embroidery but as every painting needs a good prepared canvas, I had to finish the medium for my further embroidery first. …and to answer a question I am asked quite frequently: yes, whenever I can, I finish the sewing part first and then add my embroidery! 🙂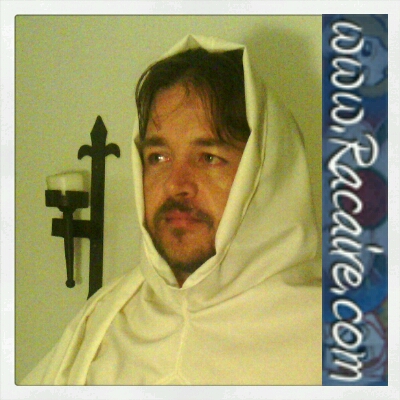 The wool fabric my friend sent me for his hood is very fine and quite thin. Therefore I decided to make very small hand-sewing stitches – this way my sewing stitches can blend in with the surface texture and become nearly invisible.
Including the cutting of the fabric and all the hand-sewing, it took me about 30 hours to create this 14th century XL hood. And now let's enjoy some more pictures of the finished hood! 😀
…I am sorry, but the following content is restricted to logged in members of my blog.
I hope you enjoyed the pictures of my new 14th century XL hood project. This are very well invested 30 hours but it will take even more work hours before the embroidery is finished and I can deliver the hood.
Well, what shall I say – one more point of my long to-do list is completed by now and this leaves me with even more work for the future. *lol* The 14th century XL hood for the Pelican elevation of my friend needs some embroidery now! 😀