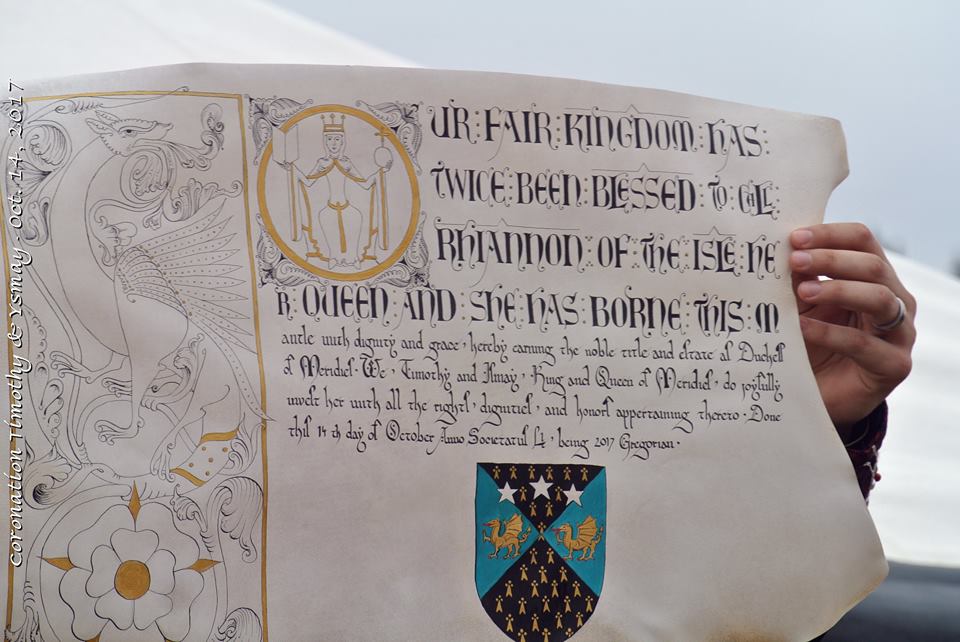 While I was writing about the beautiful Grant of Arms scroll made by Meuric ap Rhys, which I just recently received, I remembered that I didn't post about my own most recent and very secret 12th century scroll project yet. 🙂
But now that my most recent and very secret scroll was officially given out during court at coronation, I can tell you more about it. I made a 12th century based and inspired Duchess scroll for Rhiannon, Our beloved (former) Queen of the beautiful Kingdom of Meridies. It is the second 12th century scroll I ever made! And – by the way – this scroll is the very first one I ever created by using real parchment!
And here it is – a photo of my 12th century Ducchess scroll for Rhiannon of the Isle.
Photo of the scroll taken the recent coronation event, courtesy by Ellen DeLacey:
Yes, this scroll is really rather big and the calligraphy & illumination was done on real parchment. As far as I remember this parchment was made from goat skin. It is so soft to the touch that I had to restrain myself from petting it all the time when I got it. Btw. it was a lovely gift from a wonderful member of the order of the rose who commissioned the scroll for the rose tournament at Gulf Wars this year. And as soon as I got the commission for Rhiannon's Ducchess scroll, I knew that this lovely parchment would be perfect for this project. Yeah, sometimes my gut feeling can be quite overwhelming and demanding and in this case it screamed: "Go big or go home…". 😉
Though this time the "go big" wasn't actually my own idea. The bigger size was already a request when I accepted the commission. And I have to admit that I found this idea quite intriguing. Just to see where this project and my ideas would take me made it already more than worthwhile and regardless to say – I was always a huge fan of Rhiannon. Especially since she welcomed me so hearty in her Dragons Or camp at my very first Gulf Wars and made sure that I had the time of my life. Her camp Dragons Or is simply filled with some of the most amazing people I ever met in the SCA and damn, they have beer on tap. Well, let me rephrase that – they have really great beer on tap! *swoon*
But back again to the project on hand. Though I am quite used to trying out new things and techniques or taking risks like these, I was quite intimidated at first. As Rhiannon has always been a great friend and inspiration, I wanted to make something amazing and beautiful for her. A scroll she would love and could be proud of. Well, as you can imagine, this kind of expectations added quite some extra pressure on myself and my project. And as this wasn't intimidating enough, I had never worked on real parchment before. Yes, I worked with faux parchment – pergamenata- but how easy or difficult would it be to create a scroll on real parchment? Would the ink bleed? Would it take on ink and paint without problems or did I pet it too much and left too much oil on its surface? Which side should I use? How shall I cut the parchment?
Question over question was literally coming down on me and I even panicked a bit as my self doubts began to pile up. However, it didn't help. I had to take all my courage together and to start working as my time was very limited. There was definitely no time left to make any more excuses or to hesitate as Meridian Grand Tournament was fast approaching. I wanted to deliver the scroll there so I could avoid sending it by mail where it could get damaged or arrive too late.
…I am sorry, but the following content is restricted to logged in members of my blog.
And soon more about my work at this 12th century scroll project as well as more detail photos of this very special 12th century scroll. I also already started writing on my posting about my new 12th / 13th century stamps for my upcoming stamping and garb projects… Now that I was able to replace my old tablet with a new one which works without problems, it shouldn't take too long until I get to it… 🙂