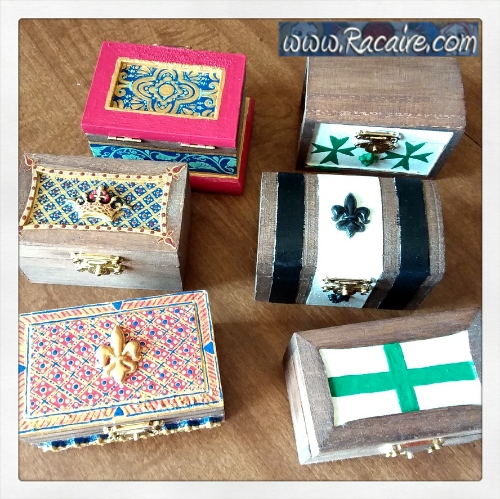 As you can see, my husband and I had a lot of fun painting some small wooden boxes for our largesse stash. 🙂
Now you might ask – what is largesse? Well, largesse is a nice tradition within the SCA and it normally describes small tokens of appreciation. Largesse can come in a lot of different forms and shapes. Quite often it is hand made by the person who gives the largesse – or well, like in this certain case, it can be store bought and then hand painted. 🙂
Largesse is often given as a small 'thank you' for something which was done very well or if someone went above and beyond when it comes to service. I am really glad that we now have those small boxes to fill up our largesse stash again as I recently run out of largesse: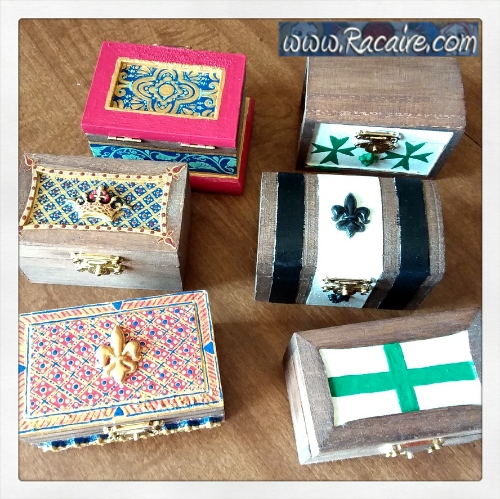 Well, can you guess who painted which boxes? Yes, my sweetheart painted the boxes on the right and I painted the ones on the left. The ones with the green Lazarus crosses are already going as small thank you gifts to good friends and the other ones will go to our largesse stash.
Here is a closer look at the boxes which my husband painted: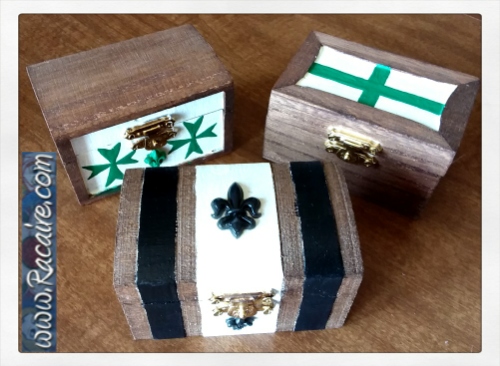 Ok, I admit it, I helped him a little tiny bit with the green crosses… 😉
…and here is a closer look at the wooden boxes I painted: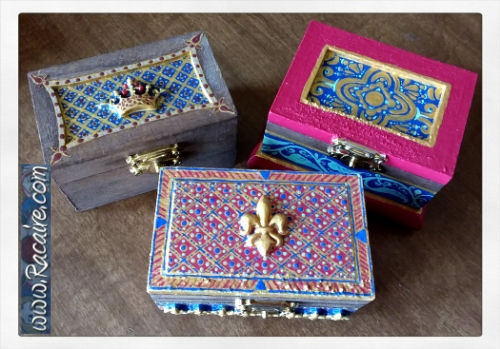 …and here is a picture of the boxes from a slightly different angle: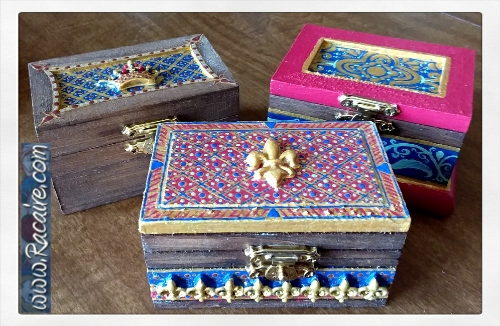 It's quite funny – normally I come up with all kinds of projects. However, this fun project was actually my sweethearts idea. While we were browsing through one of the local crafting stores he suddenly found some small wooden boxes for a great price and asked me what I thought about them. Well, I replied, if he wanted to play with them, we can take them home and well, we did take them home… *lol*
…and we not only took the boxes home as my husband really longed to try something new: resin! It was quite a lucky coincidence that I also discovered a silicon form on sale with adorable little crowns, fleur-de-lis and even a laurel wreath. As soon as we got home my sweetheart stained the boxes and used the resin for the very first time. And as you can see on the pictures above, I already put the crowns and fleur-de-lis to good use. Yes, this was quite a fun project, but it was not only fun as we could try some new things and learn from them.
…I am sorry, but the following content is restricted to logged in members of my blog.
So much to my husbands and I latest largesse fun project which was so easy to make and so much fun for us. I hope I could inspire some of you to start a small fun project or some largesse of your own now…
Btw. I have also some great news about my new nailbinded (and embroidered) hood project which I just finished, the new yellow raw silk fabric which we just block printed for the next 12th/13th century tunic for my husband, some viking wire weaving and wire wrapping projects, a new medieval inspired stamp and so much more to show you.
And I even have some nice progress pictures concerning Talina's embroidered 14th century hood and some photos of how I made my husbands 12th/13th century side slit neckline…
Yes, I'll try to post about it all as soon as possible. So many projects and so little time but I try to keep up with all my projects, therefore stay tuned my friends… 🙂