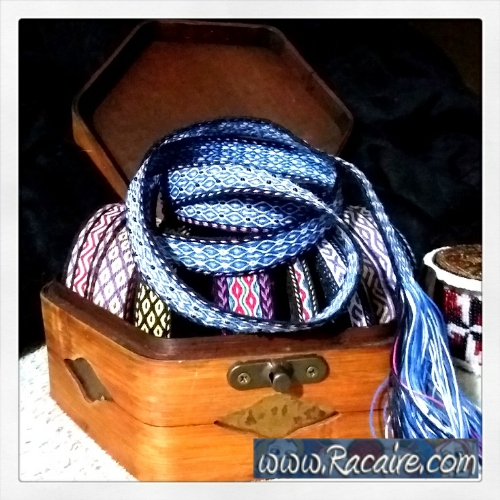 Wooohooo! I finished another tablet woven band! And this time I even added black glass beads to it while I was weaving it! *happydance*
Well, it seems like I made enough tablet woven bands during the last months that I finally gave up on counting them. However, if I had to make an educated guess, I would say this band is number 10(+something). 😀
But the number of tablet woven bands I made is actually not really important to me. What really counts is that I am still using the frame my dear friend Martina from Vienna/Austria gave to me before I started my life here in the states. And every time I put it to good use and create another tablet woven band, I remember all the great time I spent together with my friends in Vienna. However, I don't dread remembering the past as it adds a sweet memory of the past to each band I weave for the future. 🙂
…and on the picture underneath you can see how my little stash of tablet woven bands is slowly filling up: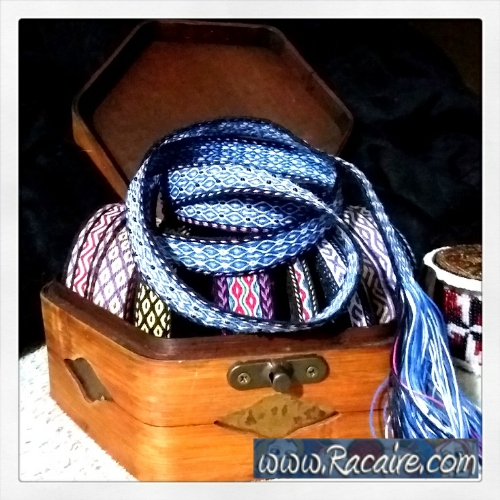 …so many colors and possibilities for future sewing projects: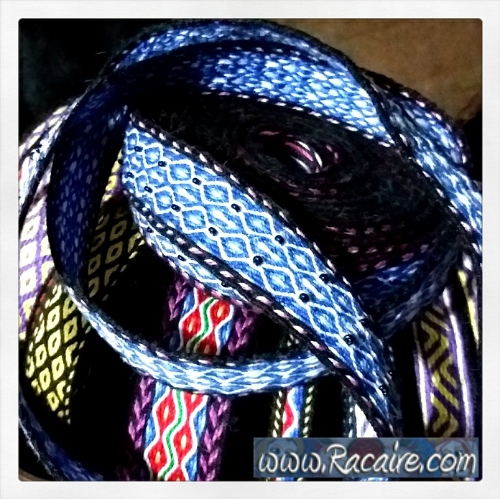 …though a crafty girl like me can never have enough tablet woven trim, I'd call this selection a really nice stash: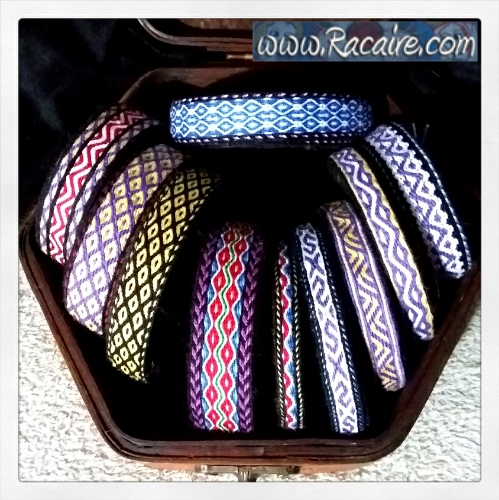 I have to say that the picture above makes me really proud! I went from doing no weaving at all to making all these tablet woven bands myself! I even tried my hand on slightly more difficult patterns than the simple "all forward and all backward at the same time" patterns. And though some swear words might have been involved from time to time – especially while trying the more difficult patterns – I am very satisfied with the result. Yes, weaving doesn't come as easily to me as embroidery but I still consider it a lot of fun. 😀
…and here a closer look at my most recent tablet woven band with black glass beads which I just finished: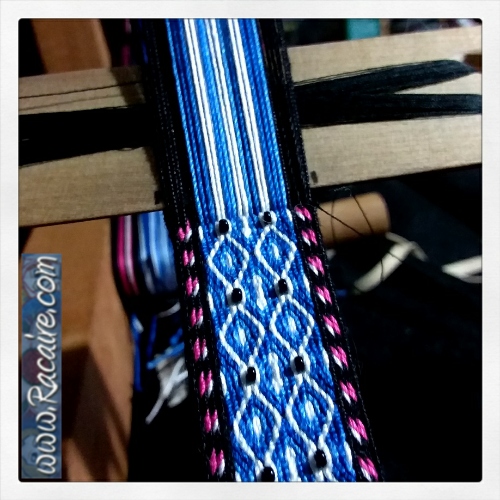 Adding the black glass beads was not difficult at all. However, it slowed down the weaving process by quite a bit. But let's start at the beginning – once I decided to add the glass beads, I had to work out the easiest and best way to do it and this is the solution I came up with – enjoy! 😀
…I am sorry, but the following content is restricted to logged in members of my blog.
…and now I just need to start a new sewing project so I can use up some of my new tablet woven bands… *giggle*