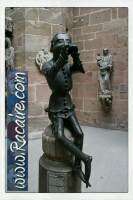 As some of you might have noticed over the last years, I really love visiting museums. And even more than visiting museums I love to take pictures of the beautiful medieval things on display in museums.
Regardless if it is about medieval fabrics, medieval wood-work, medieval jewelry,… or medieval embroidery. You can take me to a museum and leave me alone in the medieval collection.
I will happily entertain myself by taking several photos of nearly every medieval thing on display. It is especially dangerous to leave me alone with a good 12th century, 13th century or 14th century collection. Some of my friends already found out that I & and my DSLR don't get far in medieval collections. 😉
But back to the main topic:
"14th century floral head bands".
I would like to start with a 'heartily thank you' to Sarah for her recent comment on my posting about the Running Stitch – thank you very much Sarah!
In this comment she mentioned floral head bands from the Codex Manesse. I suddenly thought – "hmmm, floral head bands based on the Codex Manesse?" And I was suddenly reminded on some lovely examples of floral head bands I "run into" last year. Therefore I started to dig through my museum pictures and voila! I found even more lovely pictures of floral head bands. 🙂
I hope that by sharing the following pictures and especially the detail pictures and in-depth information I can provide some new and additional inspiration for you and Sarah. Lets start with the exquisite fountain figure which already greeted you at the beginning of this posting. You might ask – what has this 14th century fountain figure to do with 14th century floral head bands? Well, let's take a closer look: