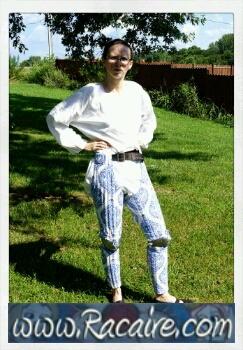 Now that the padded arming coat is finally finished, I also get to show you the padded leg armor which I made some time ago. 🙂
Well, having a nice arming coat is just half the rent if you want to participate in SCA Heavy Fighting. As many of the shots go to the legs, it is a good idea to also put some thought and work into well fitting leg armor. And if you bruise as easily as I do, you indeed want some nicely padded leg armor.
I already started working at this padded leg armor in March. It was kinda a last minute project as I wanted to bring at least one piece of armor to the Women's fighter symposium at Gulf Wars which was my own.