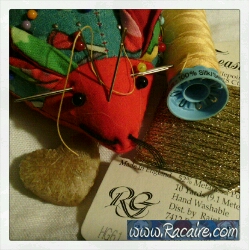 Already some days ago, after finishing the hand sewing, I started working at the sleeve embroidery for the 13th century under tunic for my sweetheart. And today I have some sneak peeks at the very first sleeve embroidery progress for you. 😀
Every new embroidery project is like a small journey and requires some inspiration, planning and many decisions. It took quite a while to go through my nice and very versatile thread collection. But as you can imagine, it took even longer to go through all the pictures of 12th century male garments on my computer.
All this lovely threads and pattern inspirations really didn't make it easy to make a decision. But I think that I finally found a very lovely inspiration and came up with a nice combination. The final design of the 12th century inspired sleeve embroidery will also incorporate some of my husbands SCA awards like the "Legion of the Bear", the "Argent Shield", the "Compostella" and the "Argent Comet".
And best of all – some time ago a dear friend sent me some beautiful threads to play with and one of this threads is just perfect for the embroidery I have on my mind….
…but now let's take a look at the sneak peek photos I have for you – enjoy! 😀
…I am sorry, but the following content is restricted to logged in members of my blog.
…and now back again to the sleeve embroidery for my sweethearts 13th century under tunic. I hope to be able to show you some new progress pictures soon. 😀