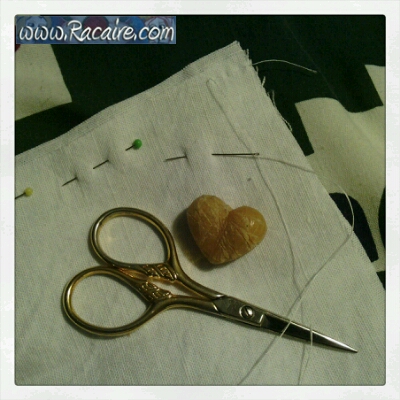 And today I have some more pictures of my embroidery for my husbands 13th century under tunic project.
During the last days I was quite busy entertaining a rather bad head cold but today it finally started to clear up again and I am already feeling much better. I can't tell you what a pleasure it is to be able to think more clearly again and not to sneeze and cough all the time. 🙂
Because of my cold I was not able to take the promised pictures of me wearing my new "Meridian cross cyclas" or some nice close ups of the embroidery but I will try to take this pictures as soon as possible. 😀
But you know, postponed is not abandoned and as I just discovered some pictures of my husbands 13th century under tunic project which I haven't posted yet. As soon as I saw them, I thought that you might enjoy them. This pictures show in detail how I created the "gold" embroidery with the rather thick "gold thread" on my husbands under tunic. Enjoy! 😀 
…I am sorry, but the following content is restricted to logged in members of my blog.
I hope you enjoyed the new pictures of my husbands 13th century under tunic project. 🙂