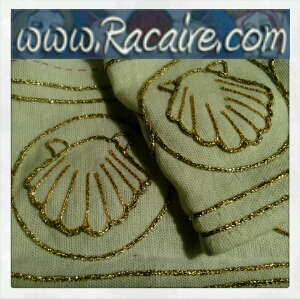 And today we are taking a look at the very last pictures of the embroidery for my husbands 13th century under tunic project. I will show you how I created the shell embroidery for my husbands "Order of Compostella"/"Pilgrims Order Award.
After I promised my husband to incorporate all of his SCA awards in the embellishment along the cuffs of his tunic, I waited with the shells until after I finished all the other awards first. Well, at first I wasn't quite sure how I should realize the pattern with the quite thick "gold thread" which I used for the rest of the embellishment but then I had a striking idea…
Btw., the shells, which represent the "Order of Compostella" or also called "Pilgrims Order Award" here in the beautiful Kingdom of Meridies, were received by my husband at an SCA event some years ago.
And now let's take a look at the pictures and how I worked the "gold thread" to create the shell pattern with only cutting the thread once at the beginning and once at the end… – enjoy! 😀
…I am sorry, but the following content is restricted to logged in members of my blog.
I hope you enjoyed todays posting about how I created the shell embroidery for my husbands 13th century under tunic project. And as soon as I manage to get some good pictures of my new "Meridian Cross Cyclas" and the appliqué embroidery on it, I will post more about it! 😀