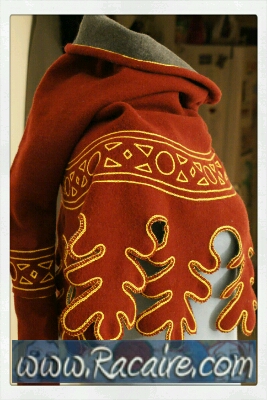 Today I have a very special treat for you:
My
14th century hood with daggings,
long liripipe & chain stitch embroidery
– revisited. 😀
As you might remember – I just posted about the "Chain Stitch" and its use for decorative hand sewing for my "fast & easy pouch tutorial":
"Chain Stitch – posting I" & "Chain Stitch – posting II"
While I was working at this two "hand sewing" related postings, I already had the feeling that a posting about embroidery next would be a good idea. And what would be more appropriate than a posting about a nice medieval project with Chain Stitch embroidery next? *lol*
Yes, this posting quasi suggested itself… 😀
Created in 2009, this hand sewn & hand embroidered 14th century hood with daggings, long liripipe and decorative chain stitch embroidery is still one of my favorite hood projects. …and I think I can see some similar hoods in the near future… B-)
…but back to the main purpose of this posting. I took some time and reviewed my old postings about this project for you. Following you will find a selection of my favorite project pictures as well as some useful information about this 14th century hood project. Enjoy! 😀
…I am sorry, but the following content is restricted to logged in members of my blog.
I hope you enjoyed reading this posting about my favorite 14th century hood project as much as I enjoyed writing it. If you have any questions about this project or would like to see another one of my projects revisited, please don't hesitate to let me know.
Btw. the next topic on my "revisited projects" list – by special request of one of my dear blog members – is: my "Woman's Hose"/my "period woolen stockings"