I just got together some of the materials for my next crafting projects and thought you would enjoy a sneak peek at them: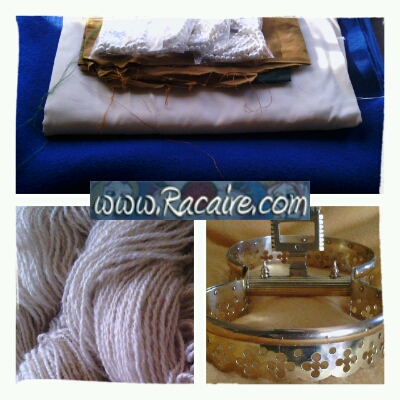 Yes, besides the 12th century clothing project for my dear sweetheart, for our 12th century wedding at the great Gulf Wars event next year in Mississippi, I am also having joy with planning some more or less "small" side projects.

Among some other small side projects, I am going to make a 14th century hood with daggings and embroidery for a beautiful lady and good friend of mine. Furthermore I will also make at least one other nailbinded cap and a 16th century belt pouch. Yes, my near future is filled with many interesting crafting projects. And I am very looking forward to make all of them… 🙂
The beautiful wool fabric, which my dear friend provided for her hood, is already prewashed and ready for the next step. But before I can cut it, I still have to also prewash the lovely silks she gave me for the lining and the applique embroidery...
…I am sorry, but the following content is restricted to logged in members of my blog.
Many thanks to Greig from Rockett's Forge and Brass Works for providing me with this great 16th century purse frame reproduction – it is such a lovely, inspiring and challenging project. I am sure that it will cost me some sleepless nights until I figured out how to make it work but it is definitely worth it! 😀