And here a look at my most recent nailbinding project which I just finished – a new nailbinded cap: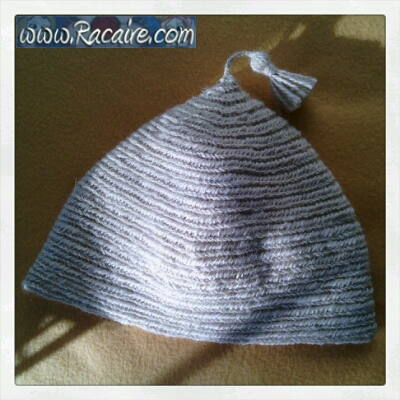 I met the nice farmer from the Peacefield farm at the local Beech Bend Market about one week ago. He liked my nailbinded snood and cap so much that he asked me to make a nailbinded cap for him and gave me some of his lovely wool.
And here we are – a new nailbinded cap is finished. This nailbinded cap will be delivered to him at the next Beech Bend Market this weekend. I hope that it will fit him well and that he likes it. 🙂
It took me about 17 working hours to complete this nailbinding project and I am very happy with the result. Some of you might recognize the shape of this cap. The simple form of this cap is very similar to the one of the nailbinded 12th century cap which I made for my sister Bella some time ago. 🙂
And here some of the progress photos of this nailbinding project for you. I already posted this pictures on my facebook page as well as on my google+ page while I was working at it. Enjoy! 🙂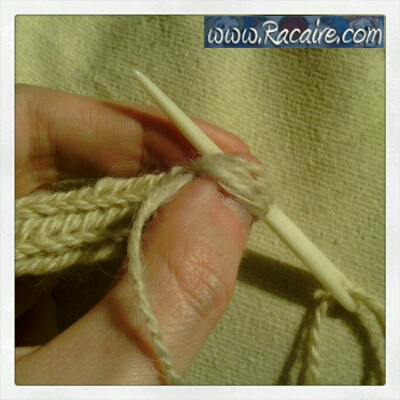 At the picture above you can see the very first row of nailbinding for this cap project.
It's really amazing how just some interwoven loops of wool thread created on a thumb by using a simple needle can create such a beautiful structure. 🙂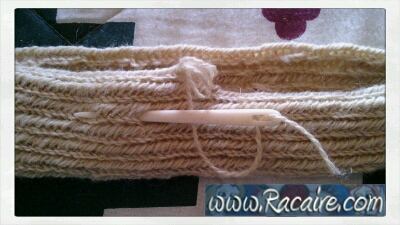 And like with the nowadays very popular crochet or knitting techniques, you can create a lovely texture by adding row after row. Depending on the nailbinding technique you chose, this structure can be rather tight or loose. As you can see at the pictures above and underneath, I've chosen a rather tight nailbinding technique for this project.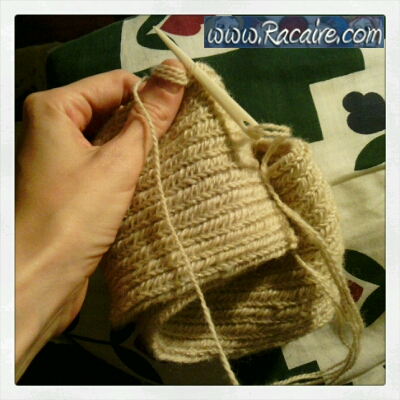 …and you can easily add or take off "nailbinding loops" to alter the form of your nailbinding project.
The picture underneath shows a progress picture of the top of the nailbinded cap – shortly before I finished it.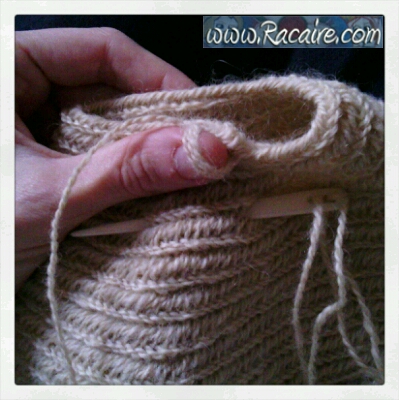 And here a picture of the finished nailbinding. The nailbinded cap is nearly finished at this picture, just some last finishing work is left. 🙂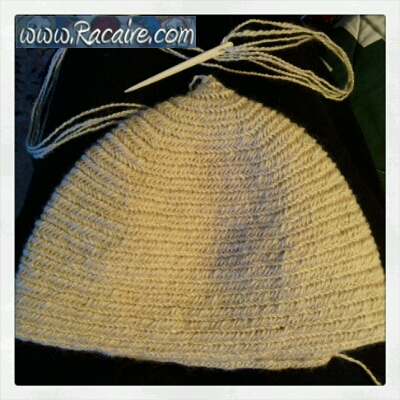 Voila – the finished cap with the added tassel at the top: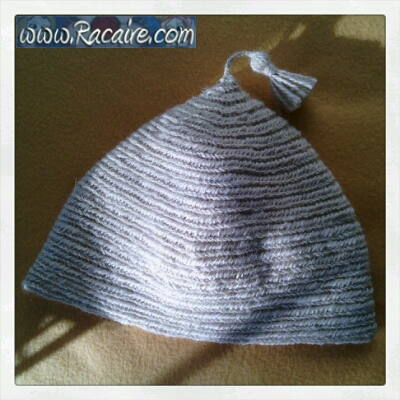 Though the structure of the nailbinding of this cap looks slightly different to the one of the 12th century cap I made for my sister Bella, I used the same nailbinding technique/notation for it.…
…I am sorry, but the following content is restricted to logged in members of my blog.
The tassel at the end of the cap is very easy to make. You can find a tutorial of how to make a fast and easy tassel here: Craft with Racaire – Project 2 – fast and easy pouch tutorial – Step 4 – Tassels, Tassels, Tassels! 😀 and here: Craft with Racaire – Project #1 – Step 5.3 – finishing – fast and easy tassels… 🙂
I hope you enjoyed my new nailbinding project and all the extra close up pictures and information I added. Nailbinding / needle-binding / Nadelbinden / Schlingentechnik /… is such an awesome medieval technique and it makes so much fun!
This is for sure not my last nailbinding project, I promise! …and if you are now in the mood for some nailbinding yourself, you might like to check out my recent posting about my modern nailbinding projects with embroidery too. 😀