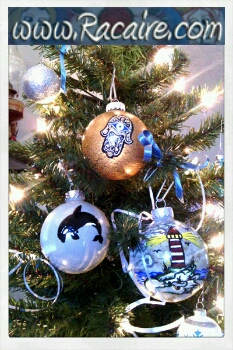 …and a sneak peek for you at my very first hand painted christmas ornaments… 😀
I have to admit that this posting was quite an inner struggle for me. Should I keep my special christmas gifts a secret or shall I post a picture of them to inspire other fellow crafters?
Well, it's quite obvious that the urge to inspire others finally got the upper hand. I am just too proud of the outcome to not share it! *giggle*
Maybe you remember the short note about the glass ornaments which I found at a local crafting store in my recent "…christmas is coming…" posting. When I saw these glass ornaments for the very first time, I had just a basic idea of what I could do with them. And sometimes a basic inspiration like this is all one needs to start a new crafting project…
Well, it took some days until the mood suddenly stroke me and I started playing with the glass ornaments. And after I saw how cute the first hand painted christmas ornaments looked like, I just couldn't help but get more glass ornaments… It's so much fun to "fill" them and to decorate them… Yeah, you can say that I am very playful and that I love painting things….
And now let's take a closer look at my christmas ornaments – enjoy! 😀
…I am sorry, but the following content is restricted to logged in members of my blog.
I hope you enjoyed my little christmas ornaments side project. And it's a lot of fun to make personalized christmas ornaments for your loved ones… Just sayin'… 😀