I know that many of you really have enjoyed my pouch-projects and I guess that some of you miss my "old" fast and easy pouch tutorial. Therefore I started a new project for you and also for my "Craft with Racaire" section:
My fast and easy pouch tutorial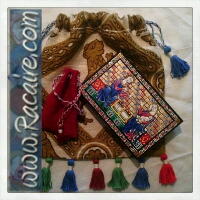 Before I introduce you the more difficult techniques and we start with the embroidered and fancy pouches, I decided to show you a simple way how to make a hand-sewn pouch for yourself, for a gift, your favorite card game,… or whatever you want to store in it. Btw. this is a tutorial for a hand-sewn pouch which you can easily embroider and embellish. It also makes a rather fast and easy but also impressive gift, especially when you add some bling (like self-made tassels) to it.
The following tutorial is the fastest and most "easy" pouch tutorial I can imagine when it comes to hand-sewn pouches. It is suitable for beginners to sewing as well as for advanced sewers. For the beginners among you I will soon add some information about period sewing techniques and stitches you will need to sew and complete this project. And the advanced embroiderers and hand-sewers might enjoy my detail-work and will maybe draw some inspiration for "fast & easy" future projects. Regardless on which level you are, I heartily welcome all of you to join me in this project.