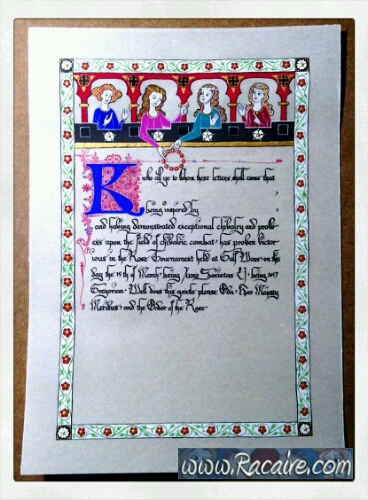 Wooohooo! The scroll for the "Rose Tournament" is finished! 😀
After all the recent postings about my progress concerning this project, I proudly present to you a picture of my finished scroll for the winner of the "Rose Tournament". A tourney which will take place at the upcoming Gulf Wars event! 😀
Looking back it seems like I just started working on this scroll. However, I know just too well that I worked for about 2 weeks on it. It is really amazing how fast time can go by when you are concentrating on a project. Like the hours just flew by as i was adding paint and ink to the pergamenata. But all that really counts at the end is that the project is finished and that I am proud of the outcome! 😀
…and apropos outcome – let's take a look at the finished scroll for the "Rose Tournament":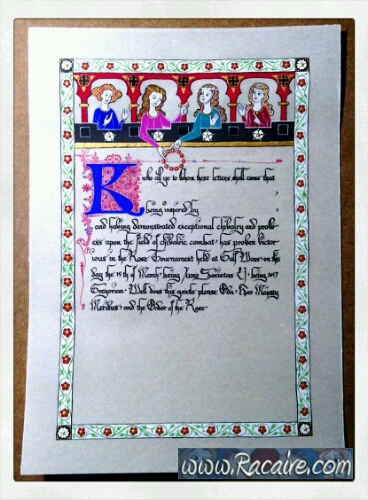 This scroll is soooo very 14th century with all its bright colors, isn't it. Well, that's definitely something you don't see very often when it comes to the scrolls I make. However, from time to time I feel the urge to pull out my good paints and this scroll was definitely created during one of my colorful moods… 😉
…and now let's take a closer look at some of the details – enjoy! 😀
…I am sorry, but the following content is restricted to logged in members of my blog.
…and last but not least I hope that the winner of the Rose Tournament likes my scroll at least as much as I do… 😀