Welcome to my revisited, updated and expanded posting about how I made my very own basic sewing pattern for my beloved medieval stockings. It took me several days to put this posting / tutorial together but when I took a second look at this posting I set higher goals for myself for the final posting. 😀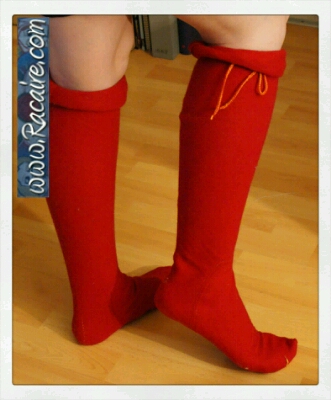 My first major goal was to make sure to cover every single step of the fitting process and to add as many useful descriptions and additional information as possible. My second major goal was to make sure that everyone who is following my detailed instructions in this posting is able to make his/her own basic pattern for fitted medieval stockings.
Well, I don't want to praise myself but I think I can say that I did a really great job and hit my target goals – but please decide yourself. The posting got very long and I hope that everyone of you, who wants to fit their first own 14th century inspired medieval stockings, will find the helpful information in the following posting you are looking for. 🙂
Ohhhh… btw. – "Medieval stockings" or "women's hose"? …that is the question, isn't it! 😉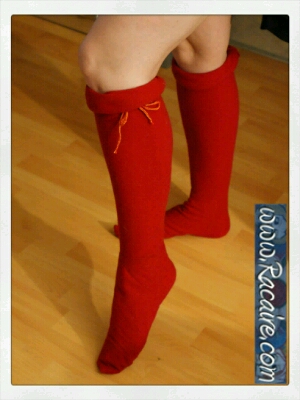 Some of you might know the fitted medieval stockings also under the term "women's hose". Well, everyone who knows me, can tell that I don't really care about names as long as it is not a name of one of my favorite embroidery techniques. However, I never really liked the term "women's hose" and always preferred to call them my (hand sewn) medieval stockings. I really think that "medieval stockings" sounds much more charming and comfortable than "women's hose". And that's what they are – absolutely comfy! 😀
…and if you think that the pictures look familiar to you, it is definitely possible. There are various "pins" of my photos showing my legs wearing my fitted & hand sewn medieval stockings "pinned" all over pinterest. *lol*
And now let's get to the point which probably interests you the most: How I constructed my comfy and closely fitted 14th century inspired medieval stockings. Well, I admit it, this project was indeed not an easy task. And my very first try to fit a stocking pattern was an epic fail but it inspired me even more to not give up and to find a way that works…
I am glad to say that I finally came up with a great fitting method and also a great medieval stockings pattern for myself. And since I developed my very first medieval stockings sewing pattern for myself, I also helped several of my friends who needed fitted medieval stockings. Once you know how to do it, the basic sewing pattern for medieval stockings can be easily fitted. 🙂
…ok, I know, you want to read more about the fitting method and my pattern now. So here we are – my revisited, updated and expanded posting for you – enjoy! 😀
How I fitted my very first 14th century inspired
medieval stockings sewing pattern
…I am sorry, but the following content is restricted to logged in members of my blog.
I hope you enjoyed my very detailed medieval stockings pattern tutorial and that I could cover every possible question. 😀