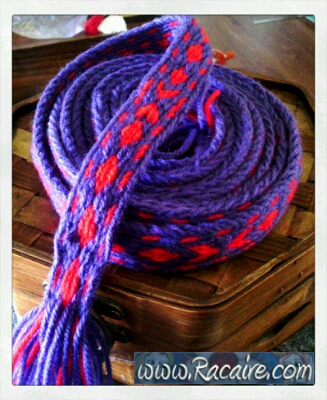 And here a sneak peek at my 4th tablet woven band.
Ok, I admit it, this tablet woven band is not the best looking one I have created till now but I think that it still looks good enough to use it as an embellishment for one of my future hand-sewing projects. Looking back at my very last tablet woven band for which I used some good quality silk threads, I guess that the not so appealing look of my new tablet woven band has more to do with the thread I used for the weaving (some Polyester "wool" thread) rather than my actual skill.
Nevertheless I don't really mind the outcome as it is just my 4th try to make a tablet woven band till now. It gave me the great possibility to execute the tablet weaving technique again and I was able to try out some things I had on my mind. Though some of my ideas didn't work out the way I anticipated, I can still say that it was worth it as I definitely learned from trying them…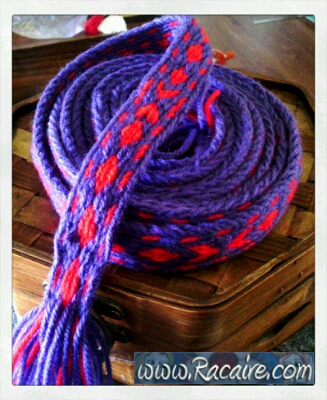 If you would like to try this great and very old technique yourself, I highly recommend my favorite book about "Finnish tablet woven bands":
Applesies and Fox Noses – Finnish Tabletwoven Bands
Authors: Maikki Karisto & Mervi Pasanen
Photography: Riikka Sundqvist
ISBN 978-952-5774-49-8
96 pages, softcover
Available here: Salakirjat
This is a really great book about tablet weaving which gives all necessary information to enable everyone to try this technique successfully. It furthermore contains enough different patterns to keep one busy for quite some time. I really love this book! 😀
…I am sorry, but the following content is restricted to logged in members of my blog.
I hope that my personal journey into the world of tablet weaving inspires some of you to try this interesting technique yourself and to make your very own tablet woven band. It is a great and very old technique which creates beautiful trim – trim which can easily be used as a great embellishment for your future sewing projects And tablet weaving is another great technique which could keep you busy for quite some time… Just sayin'… 😀