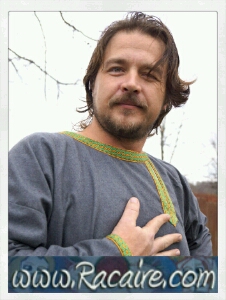 In my last posting  "12th century tunic for my husband – spotting the stress points of a 12th century neckline" I showed you how to find and identify the most vulnerable points of your neckline – or "stress points", how I tend to call them.
Most of the basic 12th century neckline styles – like a simple round or keyhole neckline – don't really require any extra strengthening. Due to their lack of real stress points (round neckline) or because their only stress points get exposed to a little bit of extra tension from time to time (keyhole neckline), it is not really necessary to take extra action…
But this turns into a completely different story when you attempt to recreate the more fancy and spiffy neckline shapes of the 12th century. Suddenly you have to face corners and the ending points of slits which expose the fabric to a lot of extra tension and eventually might cause the fabric to rip… This is why I call this points "stress points".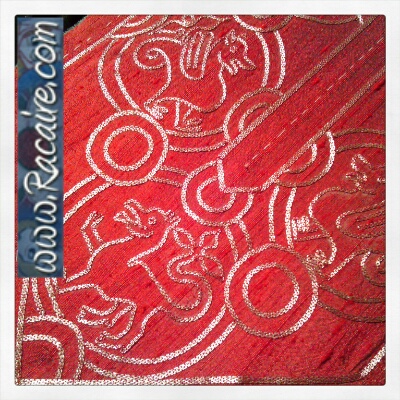 While I was working at my 12th century red silk dress project, I suddenly got aware of this problem for the very first time. It took several weeks and a lot of surface couching embroidery to create the lovely 12th century pattern for my slit neckline.
And as I prepared to apply the embroidery to my 12th century dress, I suddenly realized that the silk fabric of the neckline band as well as the very thin silk fabric of my dress might not be able to handle all the tension which would apply to both ends of the slit of the neckline.
Aware of this possible problem and determined to protect my dress as well as my embroidery from future damage, I took it upon myself to find a proper solution. Well, it took some time and research but I finally found the perfect solution for my stress points problem and used it ever since.
And now let me show you how I secure and strengthen the stress points of my 12th century necklines – enjoy! 😀
…I am sorry, but the following content is restricted to logged in members of my blog.
Though small and rather invisible detail work like this might not bear much value concerning the overall appearance, I feel like my personal level of craftsmanship and pride demand me to also take care of small details like this properly. I just can't help it – I like to keep my work always as neat and proper as possible. In my opinion little hidden details like this are just as important as the visible embellishment work at the outside of a tunic – especially if they are able to prolong the life of your project.
I hope you enjoyed todays posting about how I strengthened and secured the stress points of my husbands new 12th century tunic. I still have a little bit more to write about stress points but first I need to prepare some new pictures for my next posting about this topic… 🙂