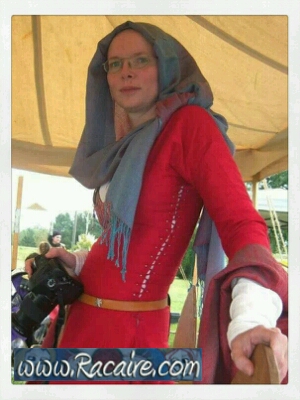 In my last posting I showed you how I strengthened and secured the stress points of the neckline of my husbands new grey tunic. But before anyone starts to call this "Racaire's neckline reinforcement technique", I would like to point out that I simply found and revived an old hand sewing technique. I did not invent this technique myself – I simply found it in a very old book I own. 🙂
Well, I admit it, whenever I face a sewing or embroidery related problem, I tend to turn to my quite extensive book collection and take a look through my beloved books. In many cases one of my books offers a very good solution for my problem.
Sounds too easy to be true? Well, you are right. To find the right solution you are looking for, you need to know your books and their main focus quite well. Some books primary focus on general information about one specific technique (like most of the modern embroidery related books) while some books try to provide wide-ranging education about a certain topic (like most of the old handcraft books). And well, it's really true, some books are just better than others…
But please don't take me wrong. Regardless of their main focus, I love and cherish my books and collect them all – books about embroidery, handcrafts, medieval arts, cooking, art…  And at any given possibility I love to look for "new" antiquarian books as they have often proven to be much more interesting than most modern books…
Unfortunately for my dear husband I insisted on bringing my whole book collection with me when I moved from Europe to the United States 2 years ago. And well, what shall I say, about 17 of my moving boxes were filled just with books – every one of them as tightly packed as possible… *lol* But this didn't prevent me to add even more books to my book collection in the meantime. The great number of book piles throughout my crafting room and the rest of the house prove this fact and are a daily reminder to my husband that he promised me to build some some very sturdy bookshelves… 😉
Well, my love for books might qualify as an addiction but I think that my husband is quite glad that I love to collect books, fabric and crafting supplies as I tend to put them to good use. Based on my experience in the past, it can be very helpful to have a good and versatile source to draw from as one never knows what might be useful for the next project…
And now let's take a look at one of my most favorite books in which I found the solution for my "neckline stress point problem": 
…I am sorry, but the following content is restricted to logged in members of my blog.
I hope you enjoyed todays posting about my source of inspiration for this old hand-sewing technique which provides extra reinforcement and helped me to take care of the stress points of my husbands neckline.
And I already dug up some pictures of how I took care of the stress points of the slit neckline of my red 12th century silk dress and the neckline of my husbands silk wedding tunic for my next posting…