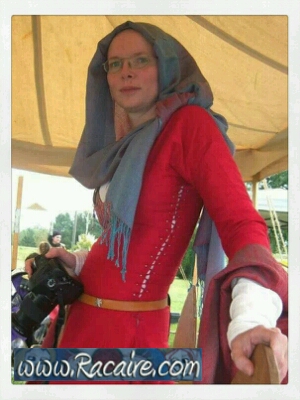 Well, it seems like I am finally getting to the second to last posting about my current topic "reinforcement of neckline stress points".
Let me recap my postings about this topic till now:
In my last posting I showed you an old hand sewing technique which provides great reinforcement for neckline stress points. And in the posting before the last one I posted pictures of how I used a variation of this technique for my husbands most recent tunic.
But let's not stop at this point as I also used this technique for some other necklines…
As I promised in my last posting, I took some time to dig through the photos of some of my other sewing projects and found two more necklines for which I used this old technique for stress point reinforcement.
The first project I looked at was my tightly fitted red 12th century silk dress with side lacing and slit neckline. This sewing project was actually the very first project for which I used this old technique as the silk fabric I worked with was quite thin. I used a simple variation of the technique like the one I showed you in my recent posting about the neckline of my husbands new tunic. Well – simple or not – I am very glad to say that the neckline still looks great after all this years which just proves to me how great even just a simple variation of this old technique works.
…and I also dug up some photos of a more recent hand sewing project – my husbands yellow and blue 12th century silk tunic. Well, as I know my husband and how he normally treats his garb, I decided to play it safe and to use the full technique for the stress point of his keyhole neckline. But more about his neckline in my next posting… 🙂
Following I will show you how the finished reinforcement at the bottom of my slit neckline of my red 12th century silk dress looks like. It is just a "simple" variation of the stress point reinforcement technique but it works very well – let's take a look… 😀 
…I am sorry, but the following content is restricted to logged in members of my blog.
I hope you enjoyed todays posting and promise that I have only one more example of neckline stress point reinforcement for you… Really, I swear! *giggle*