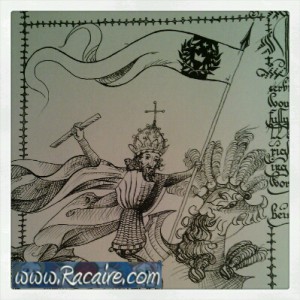 When it comes to other hobbies besides sewing and embroidery, calligraphy is one of my favorite pastimes.
Whenever I feel that I need a break from my various embroidery and sewing projects, I try to work at calligraphy projects to clear my mind.
Though this works really great and makes room for new power and inspiration, the major goal of my calligraphy projects is another one.
My calligraphy projects help me to practice my favorite hand (writing style) – "Batarde" / "Bastarda" – while I am also creating nice and useful "SCA blank scrolls". Maybe you remember some of this "blank scrolls" – like my most recent scrolls for the SCA event "Not So Grand". 😀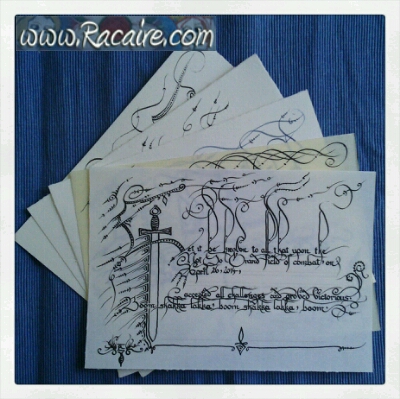 You might ask why I am posting about calligraphy today. Well, I am really blessed with all this wonderful and crafty people in my life. And though we normally talk a lot about embroidery and sewing, we recently also talked about calligraphy.
While we were talking about calligraphy, I remembered that I put together some really nice "cheating sheets" for my favorite "Batarde" hand long time ago.
It took endless days and hours to put them together but this special project was definitely worth every minute which I spent working at it. For me this calligraphy "cheating sheets" were always a very helpful and great work of reference for my Batarde hand…
Well, to cut a long story short –  while we were talking, I thought that it might be even more useful if I share my beloved calligraphy "cheating sheets" with others. Somehow I had the feeling that this might be the right time to do this. 🙂
And here they are – a little bit revised, in US letter format and ready for download and usage for my Premium members:
At this newly created "Scriptorium" page you will find the download links for my revised Batarde "cheating sheets". This new page can be found via the "Premium" menu in the header menu of my blog.
I hope that my calligraphy "cheating sheets" for Batarde will be of good use for you too and that you find them helpful and inspiring while working at your own calligraphy projects.