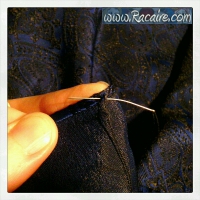 I used the last days very well by doing a lot of hand sewing and am glad to say that I made a great progress concerning my 12th century dress so far.
There is still a lot to do before my 12th century dress is finished but with every day that goes by it seems that I am getting much closer to completing it. This feeling really gives me the power I need to continue after all the hand sewing I have already done till now.
I actually never did so much hand sewing in so little time. But after finishing the 13th century under tunic and the 12th century silk over tunic for my husband, I am even more determined than before to get all my hand sewing done in time for our 12th century wedding at Gulf Wars in just a couple of days. I wish I could show you how my sweethearts face lightens up when he tells our friends about his new hand sewn and embroidered clothing. *lol*
To be honest, though I was already able to add some some nice embellishment to my husbands wedding clothing, I regret a little that I am not be able to add more embroidery to our 12th century wedding clothing before the wedding. However, it is a great feeling that we will have a lovely new ensemble of 12th century clothing to wear at out very special day – our 12th century wedding at Gulf Wars.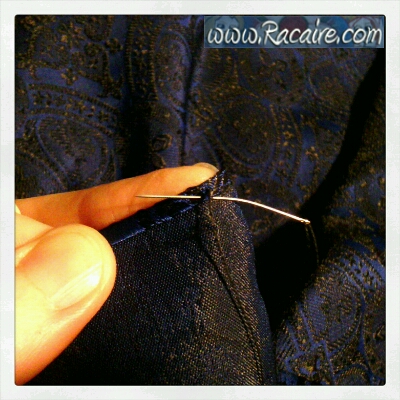 I can't tell you how much I enjoy working with this beautiful silk, especially now that it looks more and more like a 12th century dress. But take a look at the dress yourself and the great progress I achieved so far – enjoy! .:D
…I am sorry, but the following content is restricted to logged in members of my blog.
I hope you enjoyed to see the new pictures of the progress and that you like the outcome so far as much as I do. This blue silk is awesome, isn't it. 😀
And now back to do more hand sewing – I have a 12th century dress to finish and so little time left till the wedding! 😉