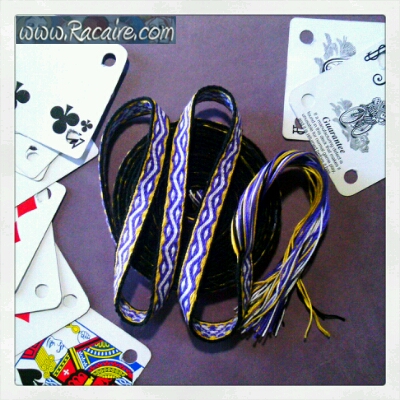 Wooohooo! I finished my 6th tablet woven band! *happy dance*
"Hienoja koukkupolvia pienomenaisten kanssa" / "Fine crooked knees with small applesies" is definitely the most difficult pattern from the book "Applesies and Fox Noses – Finished Tabletwoven Bands" which I tried so far. As I am still rather new to the tablet weaving technique, I just started to discover the slightly more difficult patterns. Yeah, I am not longer "just" rotating all cards forward or backward… 😉
And after my friend Elina (whom you might be familiar with as her blog "Neulakko" is definitely a great read for every 14th century fan and sewing enthusiast) gave me some valuable tablet weaving related hints, I hope that I might be able to improve my weaving soon. There is for sure a lot of room for improvement concerning my weaving as there are still so many things which I have to learn about this technique and so much I still have to try out… Yeah, all this possible patterns I could do next… *giggle*
But for now I am pretty happy with how my 6th tablet woven band turned out:
"Hienoja koukkupolvia pienomenaisten kanssa"
"Fine crooked knees with small applesies"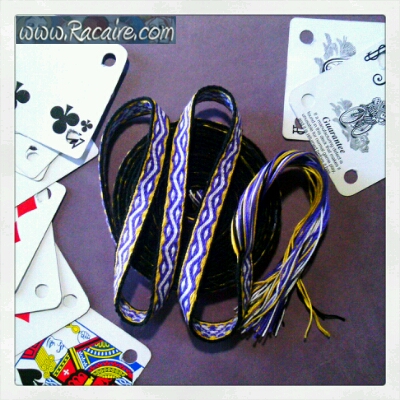 Well, at the beginning there was a lot of swearing involved but I learned… then I cursed a little bit more and also learned a little bit more… and cursed again… and learned again… *sigh* …and yeah, this is quite a long band.
But not giving up, working through the pattern and correcting mistakes, regardless how frustrated I was, had also a silver lining. At the end I knew very well how I could get rid of a certain pattern mistake and my outbursts of sudden anger definitely added to my husband amusement… 😉
And now let's take a closer look at my 6th tablet woven band – enjoy! 😀
…I am sorry, but the following content is restricted to logged in members of my blog.
I hope you enjoyed todays posting about my most recent tablet weaving project. I think that I am really getting better with every new try. However, this week is tremendously busy for me but I'll do my best to find some time to work on my next postings and keep you updated… Stay tuned my friends!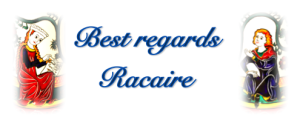 PS.: …if anyone of you wonders why I am suddenly working on tablet woven bands instead of embroidery projects… Well, the answer is quite easy – embroidery takes a lot of time and my husband needs some new garb. But as he isn't very careful with his garb at times, I had to find something that was more husband safe than embroidery for his casual, everyday wear. And tablet woven bands are so much faster and easier to make and so much sturdier…. D