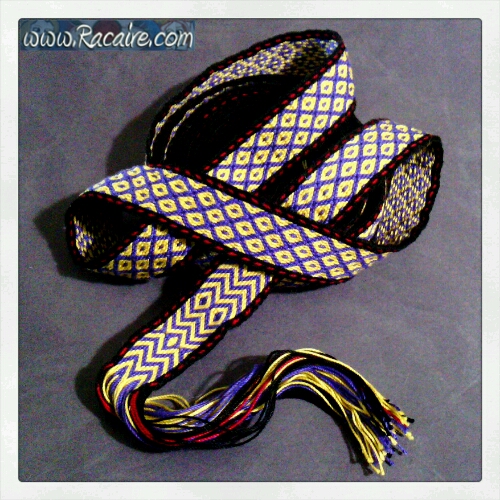 Wooohooo! I just finished my 7th tablet woven band! *veryhappydance*
The pattern I chose for my new tablet woven band is not very complicated but it looks really great and I like it. The purple and the yellow work so much better together than I initially anticipated. This band definitely makes a great addition to my tablet woven band stash for future tunic sewing projects for my sweetheart.

Like the other tablet weaving patterns which I tried till now, I found this pattern in the book "Applesies and Fox Noses – Finished Tabletwoven Bands" and its name is:
"Pienomenaisia"
or "Small applesies"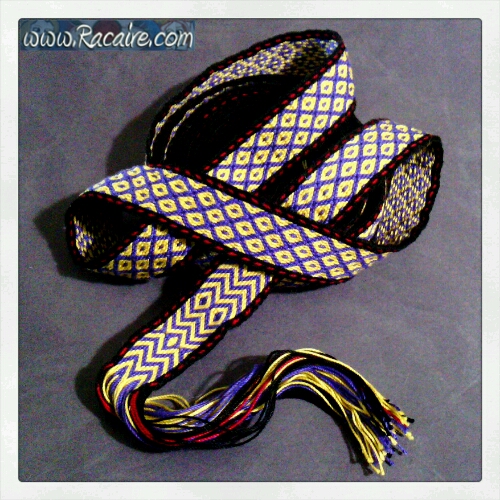 It looks good, doesn't it. And here a picture of all of my new tablet woven bands together: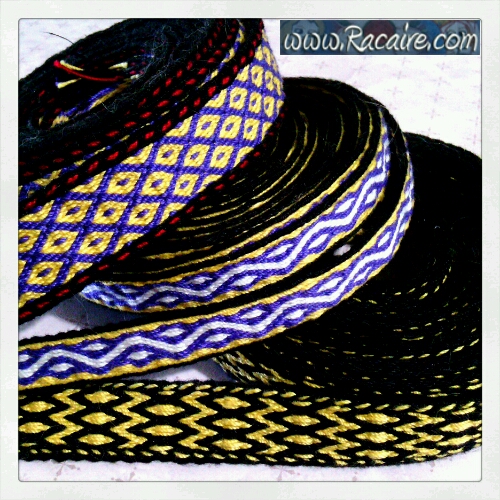 Starting at the bottom you can see my 5th band, in the middle my 6th band and then my most recent one, the 7th band, on top. I think I am really making progress here. My weaving seems to improve with every band I make.
…I am sorry, but the following content is restricted to logged in members of my blog.
As I still have to get used to a much lower tension, I might stick with the simple tablet weaving patterns for now. However, it feels great to see that I am improving and that I am getting much more comfortable with the tablet weaving technique… 😀
I am really excited about the fact that I can easily take my tablet weaving loom everywhere and work on another band once the warp is set. Already some time ago I've given up on taking my embroidery projects to events as all of my projects seem to be very delicate nowadays. And I need really good light to work on my stitches – so many tiny stitches… *sigh* Yeah, and I just can't concentrate on a project the same way as I can at home…
Well, I never thought that I would say it one day but: tablet weaving is really awesome! I can take my frame everywhere and the bands make such a great embellishment for my husbands tunics… 😀