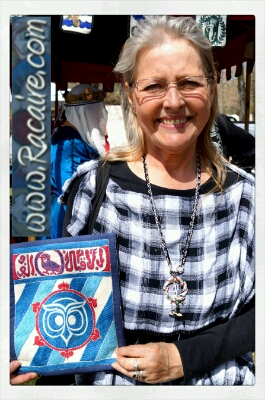 My previous posting, "super secret project revealed: OvO pouch with medieval islamic inspired embroidery", already contained a sneak peek at this very special embroidery project. And today I am going to show you the period inspiration for my medieval islamic inspired embroidery project. 🙂
But let's talk about the project first. When I took on this project, I was already aware that it wouldn't be a simple task for me. Being so close to the recipient – Gloria, my beloved mother-in-law – made this embroidery project easier but also much more difficult at the same time.
First the project appeared so much easier because I knew my mother-in-law quite well. But at the very same time I realized how much more difficult it would gonna be as I hadn't taken on an medieval islamic embroidery yet. And to make everything even more complicated I had to struggle with a very limited amount of time and two more scrolls on my to-do list. Well, you might remember my husband's Knighting scroll & vigil book and the scroll for the Rose Tournament which I had to finish before Gulf Wars…
However, my personal goal was very clear: I wanted to finish the medieval islamic inspired embroidery for her pouch, as much of the pouch as possible and all the scrolls before Gulf Wars – come hell or high water. And in retrospective I can say – I made it! …or at least came pretty close to finishing all projects before Gulf Wars. With one single exception: I was still sewing on her pouch during our drive to the event, at the event and still didn't manage to completely finish it. Gloria had to finish the shoulder strap for her pouch herself… *lol* But she assured me that she didn't mind… 🙂
Yeah, this project was my very first medieval islamic inspired embroidery project yet. Not that I haven't thought about starting a similar project during the last years. I actually admire medieval islamic art quite a lot. I even have several extant medieval islamic embroideries on my "if I ever find the time, I'd love to do…" project list. But when you are sprinting from one project to the other – may it be because of too much inspiration or just because you and your husband need some new garb – than it is hard to find some time for special projects like this. Especially if this projects require a certain amount of research in advance…
Apropos research – it took several hours until I found an extant medieval islamic embroidery which I deemed suitable as inspiration for this project. It definitely helped that I already knew a great online middle eastern art collection before I even started with my search. However, I still had to literally dig through hundreds of textile pictures. And as you can imagine, once I found my inspiration my actual research work began… 😀
And now let's take a look at the inspiration for my medieval islamic embroidery – enjoy! 😀
…I am sorry, but the following content is restricted to logged in members of my blog.
I hope you enjoyed todays posting about the period inspiration for my medieval islamic embroidery project. Stay tuned my friends, more about this project will follow soon… 😀