Yes, I know, I was quite silent recently. But I had a very good reason for my break as I've been working like crazy on a fitted 12th century silk bliaut (dress) for the future Queen of the Kingdom of Meridies.
…and like always – when it comes to special projects like these – the time frame for completion is very limited. The bliaut has to be finished before the upcoming coronation event – preferably sooner than later. However, you find me relatively relaxed as I already made some great progress. Her silk underdress is already finished as well as a good part of the bliaut. I am quite optimistic that I can get nearly everything finished for her second and last fitting at MGT – the Meridian Grand Tournament. Where I hopefully only have to adjust the bottom line of the skirt part. And this is only possible thanks to a dear friend of mine – Mistress Catelin The Wanderer. Catelin was so kind to embroider the embellishment parts of the dress.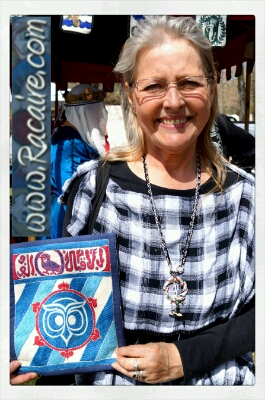 Now you might wonder why I am using the embroidery of someone else and don't do it myself. Well, I am quite fast when it comes to sewing or embroidery. However, a rather complex project like this – a closely fitted 12th century silk bliaut & underdress and elaborate embroidery is just more than one person on their own can handle in such a short time frame.
Apropos embroidery – I still owe you the last pictures of my medieval islamic inspired embroidery project. We will take a look at them today… – enjoy! 😀 Continue reading →