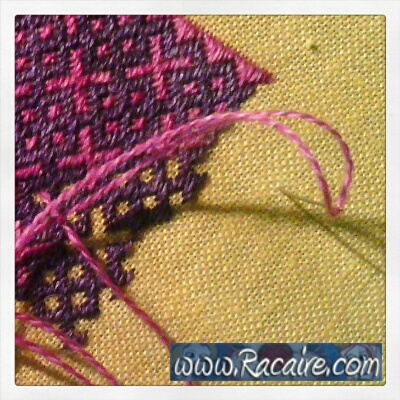 As you already might have noticed, I really love medieval embroidery. …and I decided that after all this postings it is finally time for some embroidery done by me.
German Brick Stitch seemed like a good technique to start with. Especially because this stitch looks very pretty on needle-rolls & pouches.
As I already wrote in my posting "Embroidered patches for Racaires 12th century wedding dress project" I want to put together a small gift package. (look out for the PPS at the bottom of the posting about my wedding dress project)
For this "thank you gift package" I will embroider at least one gift. I consider needle-rolls and needle-books to be perfect gifts for embroiderers and costumers, therefore I decided that my thank you gift package will at least contain a needle-roll or needle-book.
Furthermore I will add one of my fancy embroidery scissors from my private collection and well, maybe something else too. I haven't decided about the "extra gift" yet, but I will let you know as soon as I know it. This thank you gift package will go to one of the artisans who has send in patches for my wedding dress project before the deadline. And yes, every patch will add a lot to the drawing.
And now back to the medieval embroidery and the German Brick Stitch. Working at embroidery gives me the possibility to "listen" to the tv, to think about my day and everything that bothers me and finally, it keeps my hands busy. This works great while I am working at Klosterstich or Refilsaum embroidery. Well, German Brick Stitch is a little bit different or well, it is very different to be honest.
Every embroidery technique has its special Pros and Cons. While Klosterstich and Refilsaum…
Some information about Klosterstich, Refilsaum and especially German Brick Stitch embroidery techniques & many helpful links… I am sorry, but this content is restricted to users with Advanced and Premium membership.
…and now some pictures of the German Brick Stitch embroidery for needle-roll #1: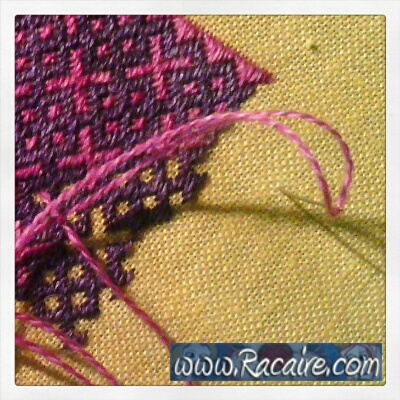 …and more pictures of my finished embroidery….
I am sorry, but the other photos are restricted to logged in members of my blog.
Btw. the pattern used for this embroidery is based on my German Brick Stitch pattern #1 – I just reduced it a little because I wanted to try a slightly different and new pattern. I will soon upload my German Brick Stitch pattern #1, I just have to check some technical details first.
Btw. I reworked my German Brick Stitch pattern #1 for the "Craft with Racaire" – Premium membership level of my blog. It has now American "letter" format and can be printed out for a ring binder if wished and/or needed. Besides the German Brick Stitch pattern #1 I also put together pages with the technical informations for Klosterstich and Refilsaum – also in "letter format", suitable for ring binders. I will upload them as soon as I start blogging about the projects where I will use this techniques.
I hope you enjoyed my first excursion into the German Brick Stitch technique. More pictures of the German Brick Stitch embroidery for needle-roll #2 & #3 will be added soon, I promise! 😀