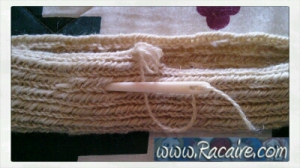 …and today I have again some nailbinding for you. 🙂
Just some days ago I was asked to make a nailbinded hood for a friend of mine. And well, what shall I say, I really couldn't resist to take on this last-minute christmas present commission. 😉
Working at such last-minute projects is a well known and dreaded tradition among SCA artisans. But normally projects like this are due shortly before an SCA event and not shortly before christmas. However, I already found myself far too often working at such last-minute projects before – like my red 12th century sik dress.
Can you imagine that I finished the last seam at my 12th century silk dress shortly before I got into the dress at Meridian Grand Tournament two years ago? But well, sewing like crazy to get a dress finished is still better than just wearing your underwear all day long… 😉
This small last-minute nailbinding project was a rather unexpected commission. Everyone of you who has done nailbinding before, knows that nailbinding takes its time. But well, times is something I really don't have at the moment because christmas eve is fast approaching and I have to deliver it rather soon as well as start working at my own christmas presents. Therefore, here I am, sitting at the couch, watching TV and working like crazy at a last-minute christmas present nailbinding project for a friend. And I am really trying to finish it as soon as possible.
But I didn't forget to take photos of my most recent progress and even took some photos for a short photo-tutorial of the nailbinding technique I am using. Enjoy! 😀
…I am sorry, but the following content is restricted to logged in members of my blog.
I hope you enjoyed the pictures of my new nailbinding project. There is still a lot of nailbinding to do but I am making good progress so far. I think that I will be able to finish this project in time and promise to post more progress pictures soon. 🙂