After some very busy but beautiful christmas days with my sweetheart, his family and our dear friends, I finally found some time and peace to sit down today and tell you more about the secret nailbinding present commission I recently started. 😀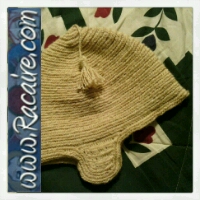 Now, some days after christmas, I think I can finally post some more details about this secret last-minute nailbinding christmas gift commission I was working at without spoiling the surprise. I am very glad to say that due to some very busy evenings and many working hours I was able to finish the nailbinding  in time and to deliver it to its recipient shortly before christmas.
By the way – speaking of christmas and presents – I hope you all had an awesome christmas with your dear family and friends too and that got all the gifts and things you wished for. 😀
And now more information about the secret last-minute nailbinding christmas gift commission I was working at. Maybe some of you remember the nailbinded cap I recently made for the nice farmer from the Peacefield farm which I met at the local Beech Bend Market. He liked my nailbinded cap so much that he asked me to do another one for his lovely wife. Though there was just one week left to start and finish this project, I really couldn't resist and took on the nailbinding commission.
…and to be able to finish and deliver this nailbinding commission, I worked like crazy at the nailbinding. Thankfully all the hard work finally payed off. I finished the hood quasi at the very last moment – at midnight on Friday night. And just some hours later, at the early Saturday morning, we already headed to the very last Beech Bend Market for 2014. I think you can imagine how glad and released I was to be able to deliver the hood to the nice farmer from the Peacefield farm this day. 🙂
The nice farmer from the Peacefield farm was also very happy when I delivered the nailbinded hood. And as no good deed goes unrewarded, he filled my fridge with some awesome organic chicken, other nice products from his farm and I even got some more lovely raw wool for my very first spinning project. I can't wait to transform all his yummy gifts into delicious dinners for my sweetheart and me. Furthermore I hope that they enjoy my work as much as I like their products. Hopefully the hood fits perfectly and she likes her new cap but I won't get to know more before the next local Beech Bend Market. 🙂
…I am sorry, but the following content is restricted to logged in members of my blog.
If you would like to know more about changing directions in nailbinding and how to make this added earwarmers, please let me know. 🙂