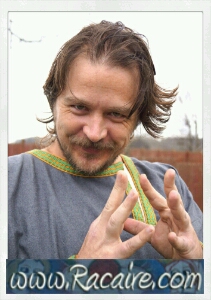 And today let's take a further look at the 12th century tunic I made for my husband last winter and especially its 12th century neckline inspired by the "blue Dalmatika" and the "white Alba".
I already started to post about this 12th century tunic project several weeks ago but somehow I got a little bit sidetracked after the last posting. It seems like my brain acts like a squirrel at times as I can get easily distracted. Sometimes it can be a hard task for me to keep track of all my projects as there are so many – future, current and already finished ones…
However, postponed is definitely not abandoned. I am picking up the thread right were I dropped it with a posting about my inspiration for the 12th century neckline for my husbands tunic. 🙂

Well, what shall I say – drawing inspiration from period sources can be quite a challenge sometimes. And this 12th century tunic neckline was a real personal challenge for me as I wanted to get it right from the start.
Fortunately I had taken some great photos of the "blue Dalmatika" and the "white Alba" during my time in Vienna. And while looking through them, I found some good photos of the necklines among my museum pictures. In order to get some more information about this pieces and especially the necklines, I consulted a museum catalogue for further details. The photos and the museum catalogue helped me tremendously but I can assure you that I still had some sleepless nights to face before I started working at my very first attempt of this 12th century neckline style.
And now let's take a look at the photos of the extant 12th century necklines which inspired my take on the 12th century neckline for my husbands tunic – enjoy! 😀
…I am sorry, but the following content is restricted to logged in members of my blog.
I hope you enjoyed my posting about my period inspiration for the 12th century neckline for my husbands tunic. Next time I will show you my take on this very special 12th century neckline style…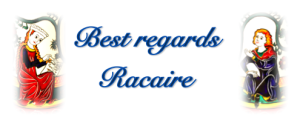 More postings about this 12th century tunic project can be found here: