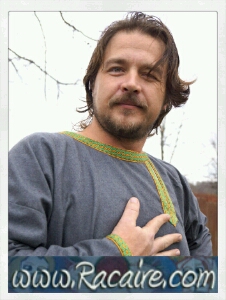 In my last posting – "12th century tunic for my husband – 12th century neckline inspired by the "blue Dalmatika" & "white Alba" – I showed you my period inspiration for the 12th century neckline for my husbands new tunic. And today I am going to show you the finished 12th century neckline.
Well, it took a while and quite some thinking but eventually I figured the cut out and made a good fitting 12th century neckline. This part of the 12th century tunic project was definitely not easy as I also wanted to incorporate a tablet woven band I made myself. Unfortunately tablet woven bands only stretch little and make it therefore not easy to be applied along round edges…

Well, it didn't make it much easier that I hardly ever make sample projects from cheap fabric to test a pattern theory. This might put even more stress on me during the beginning phase of a project but so far my ideas fortunately worked out in most of the cases…
However, the 12th century neckline is finished and my sweetheart loves the outcome as well as his new tunic. And I am just glad that the tunic as well as the 12th century neckline fit him so well.
And now let's take a look at the finished 12th century neckline – enjoy! 😀
…I am sorry, but the following content is restricted to logged in members of my blog.
I hope you enjoyed todays posting and liked my finished 12th century neckline. And in my next posting I will show you a good technique to secure main tension points of your neckline…. 🙂