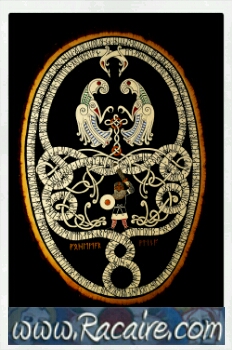 I already mentioned in my previous postings that I was working on a very special scroll and here it is:
The viking knighting scroll for
Kaðall Viðarsson.
…and yes, before you ask, it is indeed a painted woodcut. Though the term "scroll" might actually not really apply here, it served all purposes of a scroll at a recent SCA event. Therefore I am quite inclined to keep on using the term "scroll".
But actually the name of this finished project doesn't really matter. The recipient, Kail, who got surprised with this scroll at his vigil, told me that he really loves his viking knighting scroll. And this makes me very happy as I am quite proud of the end result myself. However, I still find it hard to believe that I managed to accomplish this very special task so successfully.
Why? Well, let's start at the beginning….
Requests for personal scrolls arrive me from time to time. And if I am not working on a time-sensitive project, I normally try to find some time for a special scroll commission. Therefore I didn't hesitate much when a good friend asked me to make a knighting scroll for his squire who was going to be elevated.
So far so good – "business as usual"… Or so I thought until I received the specifications for the scroll. My friend wanted me to make a scroll for a viking persona! I read it once, I read it twice and still couldn't believe my eyes. A viking knighting scroll?! No!!!!! Why me?! Seriously?! I've never done viking!! Really?!!!!!!
Well, as you can imagine, a wave of panic hit me immediately… This was quite outside of my comfort zone and not at all like the projects I finished in the past. And it took some time to calm down again. But then I started thinking…
Ok, I have seen viking artwork as well as viking projects of my friends before. And though viking forms didn't seem to be that difficult, I knew that especially easy forms like these really depended on how you execute and combine the details. The more I thought about it, the more I convinced myself that it was a doable project. But I knew that I definitely needed more information for this project. Therefore I started to look around for period inspiration and even started to accumulate pictures of viking rune stones on pinterest. Just to see if I could come up with a good inspiration for a viking knighting scroll.
Well, many pictures and several hours later I finally had an idea and started working. And, to be honest, I was quite impressed with the final result myself: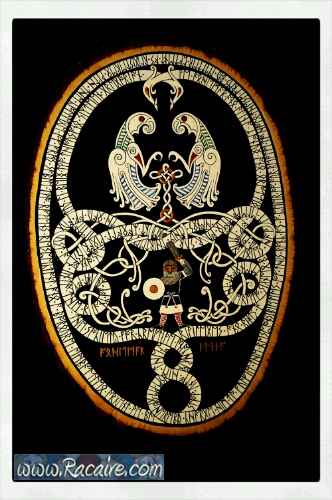 Yeah, it is great when a plan comes together, isn't it! 😀
And to not forget all the people who helped me with this project, I would like to thank my dear husband and our friend Ragnar Farfinngrimmr for their great support.
My sweetheart not only came up with the great idea to use a woodcut instead of paper, he also provided the woodcut for this quite special scroll project. And after I was finished painting the scroll, he also volunteered to apply several thin layers of clear sealer to protect the painted surface and helped me to mail it to Florida for the upcoming event. Not only that – my poor husband didn't get to snuggle me for several nights as I was painting like a maniac to finish the scroll in time. But regardless how much he missed me, he was quite understanding, cheered me up and didn't complain at all. Thanks and kisses my dear! I love you! :*
And last but not least l would also like to send a hearty and very personal thank you to Ragnar Farfinngrimmr. He translated the whole scroll text into runes in nearly no time and made this project possible! Thank you very much!
And now let's take a closer look at the viking knighting scroll for Kail – enjoy! 😀
…I am sorry, but the following content is restricted to logged in members of my blog.
I hope you like the viking knighting scroll which I made for Kail with all its little details. And though I have much more to post about and can't wait to show you pictures of my new 12th century dress and fillet, I have to go and pack for the Meridian Grand Tournament now. I'll be back in a few days and wish you a wonderful and relaxing weekend in the meantime! 😀