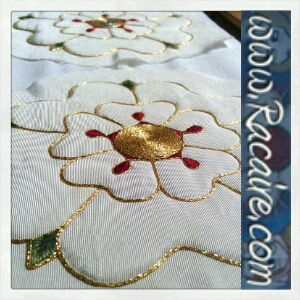 It took some time but today I finally have my third part of my rose embroidery tutorial ready for you. Todays posting will show you how I used Surface Couching to embroider the central section of the roses for my friends 14th century hood. 😀
But before we get to the embroidery tutorial, I would like to write a little about the last days and weeks as they were quite a journey for me. As some of you might recall from my recent postings, I was taking one test after another to qualify for my GED diploma. And though all these tests drained me mentally, I am excited to tell that all the hard work and concentration finally worked out. I managed to pass all my tests with a good or excellent score and should receive my GED diploma per mail within the next two weeks.

And all these tests were not only mentally challenging – the stress also took quite a toll on my personal health. My head cold, which initially seemed to get better after the first week, just got worse. Besides all the normal symptoms which come with a severe head cold, I found it very hard to concentrate or even think straight. I even hit a point where I hardly was able to breath and my sweetheart even suggested that I should see a doctor.
But well, I was always a very stubborn patient when it comes to head colds and refused to let the cold defeat me. The cold medicine enabled me to breathe again and I continued with taking one test after another. Though there was a slight chance that I might have gotten a better score on my GED tests without the cold, I remembered our motto during my time at the technical college: The main thing is to pass! As long as the result is positive, no one cares about how high the positive score was later on…
Ok, ok, I admit that I cared a little about my scores but with the results being in the "college ready" and "college ready + credits" areas, I was quite happy and decided to stop worrying – at least I really stopped worrying after I saw the results of the last test… Or to quote my husband at this point: "…you see, I told you so!" *lol* 😉
And now the testing stress of the last weeks finally came to an end, as I accomplished my drivers license, successfully passed all the assessment, pre-GED and GED tests, I am ready again to tackle whatever the future brings. And last but not least, without the testing stress it also looks like my head cold is finally getting better again and I am able retrieve my "normal" self… Well, at least as normal as my crazy personality allows…
But enough about the last weeks – this is officially my last rant about my drivers license and GED testing as well as my damn head cold, I promise – and finally back to some embroidery! Please enjoy the following posting about how I created the surface couching embroidery for the center of the roses for my friends 14th century hood! 😀
…I am sorry, but the following content is restricted to logged in members of my blog.
I hope you enjoyed todays posting about surface couching / goldwork. And soon I will have even more embroidery for you… 🙂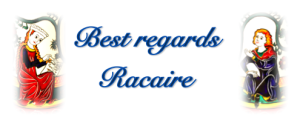 PS.: I uploaded my pictures taken at the most recent Silver Hammer event to my facebook page: SCA – Kingdom of Meridies – Silver Hammer – 10.2016
A truly beautiful event with a great feast and a lot of fighting for my sweetheart, who made me a very proud wife by winning the tournament… 😀