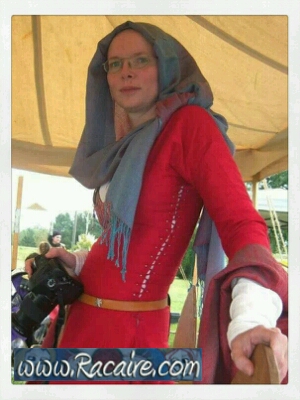 The days are rushing by and another week is coming to its end. Yeah, the weekend is close and I know quite too well that I have less and less time left for my super secret embroidery project. But that's fine as I am making really good progress. In fact I am just some days away from finishing the main part of the project – the embroidery – which normally takes the longest…
And I will need any day I can spare for the other project on my to do list before Gulf Wars. No, it's not another sewing project for my husband or I for war. I promised to make a scroll for one of the tournaments at Gulf Wars and the design I chose will take it's time. But, well, February just started and I should have plenty of time to get both projects done before the event. *knock on wood*
However, there will be no time for more embroidery progress or any scroll work this weekend as my husband and I are going to attend the Meridian War College in Alabama held by the Barony of Iron Mountain. My sweetheart is tremendously excited that the rather mild winter weather allows us to travel south and the event to actually take place as this is normally the time when many events have to be cancelled due to snow and ice.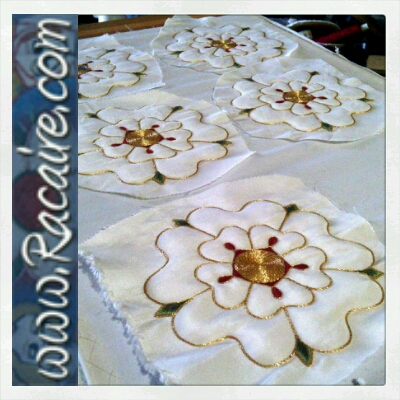 …and yes, I am planning to take my armor, my bow and my camera with me – let's see how the mood strikes me this weekend. It might involve some fighting classes, archery and/or taking some pictures with my camera. Whatever it will be, I am very looking forward to having a splendid time and hanging out with some good friends… 🙂
But enough for now about my SCA life as well as my current and near future projects.
It is about time that I finally get to the topic of todays posting – the last part concerning the gold thread embellishment for the border of the rose leaf – enjoy! 😀
…I am sorry, but the following content is restricted to logged in members of my blog.
I hope you enjoyed todays posting and I wish you all a beautiful weekend! Well, maybe I get to see some of you at the Meridian War College in Alabama! 😀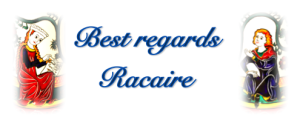 More postings about the rose embroidery for this 14th century hood project can be found here:
…and even more postings about this 14th century hood project for my friend, Elisenda de Luna can be found here: