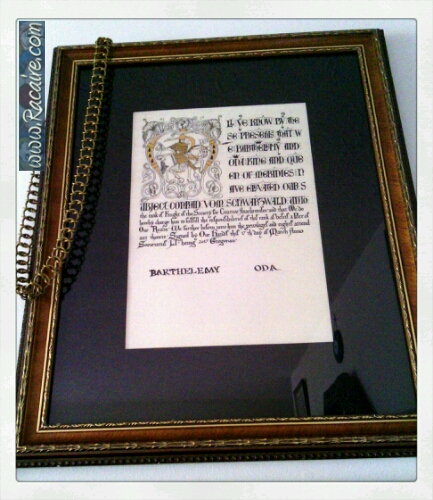 And finally – last but not least – the 12th century inspired knighting scroll and vigil book page which I made for my husband's knighting at Gulf Wars!
Well, as you might already know, I consider the 12th century the one "true century". However, I have to admit that I awfully neglected my beloved century when it comes to calligraphy and scrolls. Therefore I made the creation of his 12th century knighting scroll my very personal mission. And yes, I even learned two new styles for it. 😀

Before I go further into the details, let us take a look at my husbands 12th century inspired knighting scroll: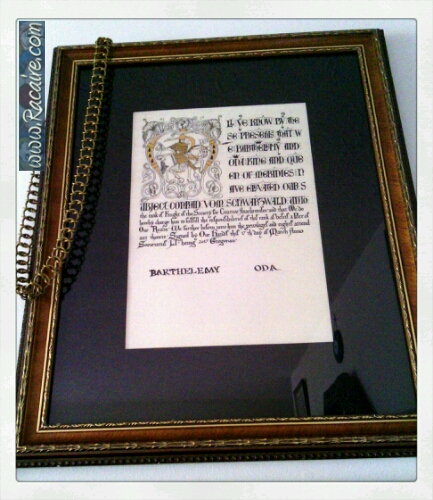 Yes, I know, there is a lot of empty space at the bottom but I am waiting for some seals which we should get soon. And as soon as I am ready to open up the frame and to attach the seals, I will also add the third signature which is still missing. I have the permission to add the signature in absence as events are just too busy to sit down and to sign scrolls.
…and then there is also the 12th century inspired vigil book page which I made for my husband: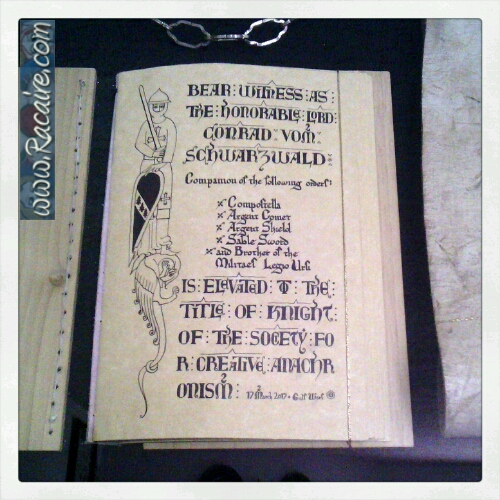 To protect his vigil book as well as the chain, spurs and belt, which he only meant to wear at his ceremony, I got him a shadow box and assembled all items for him in it: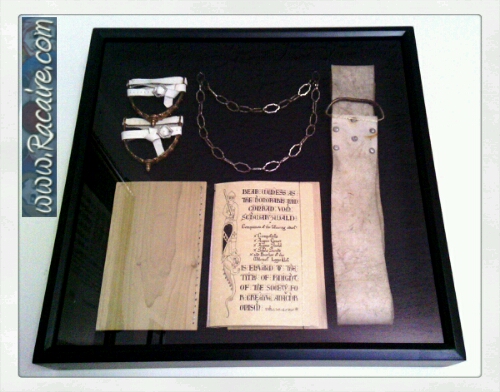 Don't worry, he has another white belt and several new chains he will use in the future. The chain and belt in the shadow box were a gift of a good friend of his and were already used for many years within the SCA. They are more like reliquaries for him – I am sure that he would be heartbroken if anything would happen to them so a shadowbox is definitely the best way to go here. As well as it is much easier to dust off a shadow box than the items I put in it. And yeah, he is not a fan of spurs. Well, you know, whatever makes him happy and it is one item less we might have to replace in the future due to use… 😉
We had to shift some scrolls and stuff around but then we finally found the perfect space for his sword, knighting scroll and shadow box – right above his computer corner: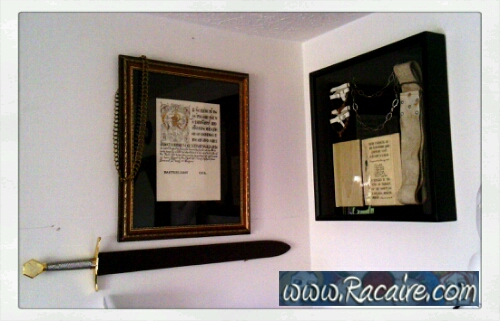 …and now let's take a closer look at the knighting scroll in progress – enjoy! 😀
…I am sorry, but the following content is restricted to logged in members of my blog.
I hope you enjoyed the pictures of the 12th century inspired knighting scroll and vigil book for my husband. I will try to take some better pictures of the finished scroll as soon as I get the seals and open the frame up again to attach them. In the meantime please enjoy my sewing and embroidery related postings as this posting should be the last "scroll related" one for quite some time… 😉