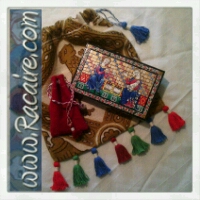 In my opinion it is important to know the basics to be good in something. To know the basics enables creativity and the ability to create lovely things.
Even if the focus is on medieval hand embroidery, it doesn't hurt to look into the basics of hand sewing if you don't want to spend the rest of your life creating wallhangings… but well, even for that you would need some basic hand sewing techniques if you don't want a wallhanging with untreated edges… 😉
But let me share a nice little secret with you – the stitches for hand sewing are rather easy and can be found in the same form or a very similar form also in the medieval embroidery.