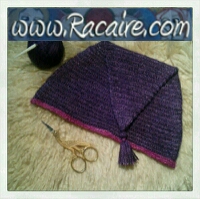 I recently got to know that the purple 12th century nailbinded cap which I made in december 2013 finally arrived safe in the hands of my beautiful sister Bella in the states.
Actually it was meant to be a christmas present. But due to all the mundane stress I had during the turn of the year, I unfortunately forgot to send it till spring. …and then – *panic* – it seemed that the cap got lost in the mail….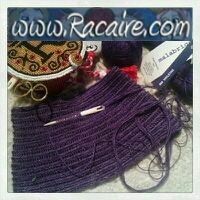 I was really frightened that the cap might got lost in the mail until I got the releasing message from my sister. Therefore I decided to celebrate the arrival and to revisit my posting about this project for you.
…and well, this is also a small kick into my own butt to finish my pink 12th century cap which is already waiting for its last finishing work and tassel for some months now… *lol*
…and now to the revisited and updated posting about my first 12th century nailbinding project:
Bellas new 12th century nailbinded cap
in purple with tassel 😀